Is It Better to Give Than to Receive?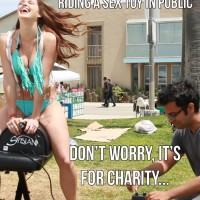 It's said that it is a far more blessed thing to give than to receive but in this case, we're not quite sure. The women participating in a recent charity event seemed to be pretty happy with what they got.
This week, Simple Pickup, a YouTube channel following three guys (Jason, Jesse and Kong) as they pickup girls, decided to put their catcalling to good use. The guys asked random women on the beach to try out the classic Sybian- a ride-on masturbation device from the 80s. For every second that a woman could stay on the Sybian, Simple Pickup donated $5 to The Orchid Project, a charity dedicated to the prevention of female circumcision.
Though the Sybian is a relic of sex toys past, you can check out Good Vibes for some of the latest and greatest sex toys, it seemed to provide participants with a fair amount of pleasure. Simple Pickup is donating an additional $100 for every 100,00 views their sex toy stunt gets. The video is pretty funny and you can watch it here.  Participants seem to struggle between being pleasured and remaining composed in front of the camera, one woman even seems to have a really intense orgasm!
Use coupon code GVEMILY20 for 20% off at GoodVibes.com