Ask Emily: Is Knowing What You Want Sexy or Selfish?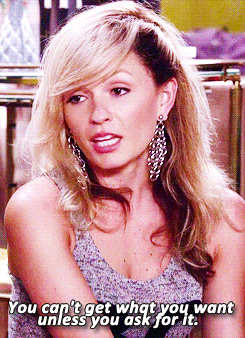 Q: DEAR EMILY,
I was dating a guy who was great in bed. The first time we hooked up, he asked me what my fantasy was—I told him, we went with it and it was really hot. As we continued to date, he kept asking me what my fantasies were, so then I thought that the ones I had already shared weren't hot enough. I started worrying about what he thought of me, and if I was too boring.
I realized that when I'm with someone, I focus on trying to be exciting, thinking more about what my partner might want rather than putting my needs and desires first. My question is, how can I focus more on myself and what I like without being selfish in bed?
Jess, 31
A: DEAR JESS,
I have to say, you've had an incredibly insightful revelation and it's so awesome (and impressive!) that you've been able to pinpoint what's been keeping you from focusing on what you want in bed! There are a lot of things that keep us women from asking for what we want, but the most prominent reason is the fact that from a young age, we are socialized to put the needs of others first—including the needs of our partners in the bedroom. So, don't worry! You're just like every other woman I know, and you're right where you need to be.
LEARN HOW TO PRIORITIZE YOUR NEEDS IN BED WITH TIPS FROM MY LATEST ARTICLE FOR GLAMOUR'S SMITTEN COLUMN, "AM I BEING TOO SELFISH IN BED?"