Is 'manjuice' one word or two?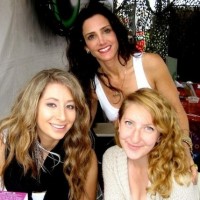 My former intern Erin wrote a piece on me for the Bold Italic: "SF Sexpert Will Be on TV Tonight." She wrote about her experiences as a Sex With Emily intern, Miss Advised, and the semantics of man juice. 
From Bold Italic:
"Is 'manjuice' one word or two?" was one of my first questions for Emily Morse of Sex With Emily, the relationships podcast based in San Francisco. I was the newest intern writing a blog post about pineapple juice remedies for men with complaining girlfriends and wives. I won't get into the details, but I will say that Emily had an answer for me (it was two words). She always does.  
During my year of working with Emily, I realized that she had answers to some of the biggest questions that women and men have: "Am I good enough? What's wrong with me? Is that weird?" Every time Emily came back with her ever-steady positive vibes and helped you see the even bigger picture: "Does that make you happy?"
Of course her answers would accompany advice for women to communicate in bed, and for men to make eye contact with ladies at bars. Emily was so successful in her advice, in fact, that Bravo TV recruited her for one of their newest TV shows, Miss Advised.
Oh & if you were wondering about Erin's Man Juice blog…
Today the term "manjuice" entered the office and the following minutes the ladies and I discussed whether this is one word. Is it hyphenated? Is it two words like, "man juice?" My computer's dictionary does not recognize "manjuice" as a word in the English language, but I did not expect it to be up to date on sex slang. Kelsi was somewhat familiar with the term and deemed it one word by default. Michelle then applied her PR training and determined that if "manjuice" refers to one entity, it must be one word but should be hyphenated, "man-juice." So we turned to Emily's Twitter followers where the debate continues.
"Nobilis" is pretty sure it's hyphenated. RT @SexWithEmily: My intern just asked me if "manjuice" is one word or two #Sexwithemily #sexterms
Prettyboyedu says "two."
TheProfessorSD says "I think it's 2, but don't hold it against me if I'm wrong."