Jeff Probst Show Appearances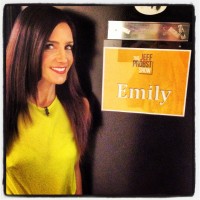 This week I made two appearances on the Jeff Probst Show answering viewers' questions on what is a "normal sex drive"  and couples' compatibility…
I get a lot of questions regarding what's "normal" – "normal sex drive," "normal number of partners," ect. The truth is nothing is!  Watch my video clip for some advice.
Later this week, backstage at Jeff Probst,   I answered more questions from viewers; specifically "if sex isn't good the first time, how long do I wait to have better sex?"   Watch this video clip I tackled this couples's sexual compatibility question.
I will answer viewers' questions on future episodes of the  Jeff Probst Show.   So, if you have a question, e-mail me at Feedback@SexWithEmily.com.
Happy Monday!
xxx
Emily