Join Me for a Beer on the Roof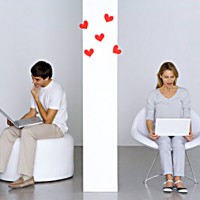 I started online dating as a joke. Alright I was somewhat serious about it. I spent hours on my profile answering questions just so. I drink, but only socially of course. I'm really good at hula-hooping and the first thing people usually notice about me is the giant gyrating hoop around my waist. Never be too serious and never admit too much.  Message me if you're looking to join me on the roof for a beer.
According to OkTrends, the official blog of OkCupid, women who like the taste of beer are more likely to sleep with someone on the first date.  Not completely untrue. However, I knew my OkCupid prospect for a while.  He was 26, Jewish, and a law student. He was witty and willing to take the time to get to know me online before asking me out.  I always thought online dating was for divorcees or the socially awkward.  But I had a connection with my OkCupid guy that I just couldn't find at the local bar.  When it came time for the date I cancelled. I was nervous the correspondence would be better than actually meeting him in person.  He finally persuaded me to go out with him by sending me a video of monkeys bathing in hot springs. It was really funny and I figured if OkCupid led me to an adorable monkey video then maybe it could match me with someone worthwhile.
We ended up having a pretty good time on our date, especially after engaging in some "social drinking." I told him that I am too selfish to take care of anything other than a cactus. He told me that he cheated on his last girlfriend. Not the most romantic dating conversation but we no longer had OkCupid to hide behind. But apparently he had more to hide than me. He asked me to be his girlfriend after a couple of drinks and of course I said no. I mean I can barely even take care of a cactus. Yes, we did have sex and afterwards he asked me what I would do if he turned out to be a mass murderer.  Surprisingly that's not the worst thing that happened. He called me "babe" repeatedly during sex. Needless to say it ended and I haven't been on an online date since.
Maybe I still haven't warmed up to the idea of "calculated compatibility." The notion that "what I'm looking for" in a relationship can be boiled down to gender, age, and location.  But we live in a modern world where "liking" something is expressed by pressing a button. So I suppose it makes sense that liking someone online might be the first step to having a real emotional connection. Or at least sex.