June Sex-O-Scopes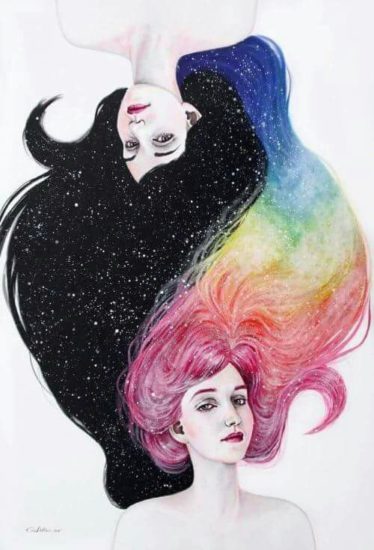 Don't be sad that the Masturbation month of May is over, because my Sex-O-Scopes are here to help you harness the astrological influences of June for your sexual benefit.
We have a few more weeks left to enjoy this Gemini Season, which brings out our social and vivacious vibes. Gemini is represented by The Twins, and has a lot of duality energy.
Talkative Gemini is ruled by Mercury, who governs communication, no surprises there. Everyone would be wise to communicate their thoughts and feelings clearly and kindly this month. Some dirty talk wouldn't hurt either…
On June 21st, we enter watery Cancer who lends us her sweet and tender maternal energy. So enjoy your sexy social energy while you can, because soon Cancer season brings us indoors to rest and restore.
If you're new to astrology, feel free to just look up your sun sign. If you're more experienced in the astrological realm, you may enjoy looking up your Venus and Mars positions also, as these rule your sex and romance zones.
Gemini
It's your time to shine you sexy Gemini twin babes! On June 3rd, we see the New Moon in your sign, making it the perfect time to set your sexual and romantic intentions for this year. Mercury rules communication and is still in your house on the New Moon (it leaves on the 4th), so you'd be wise to show your partners what that mouth do! Don't waste it all on sex though, make sure you express your thoughts and feelings as much as you talk dirty.
Venus enters your sign on June 8th, which will make you feel more romantic than usual. You might even have the urge to tell a crush how you actually feel about them! Gasp! Since it's your birthday month, treat yourself with a fun and sexy Zodiac-themed gift. And maybe even a cute Gemini clutch to go with it.
Cancer
Mercury, the planet of communication, will enter your sign on June 4th. This may encourage even the crabbiest of crabs to say how they feel. Venus is still in stubborn Taurus until the 7th though, so you might want to hold off until it hits Gemini on the 8th. Then try out some dirty talk, and explore any new adventurous sex acts that have been on your mind!
The Full Moon in Sagittarius on the 17th will bring you out of your shell. Coupled up Cancers should take their partners out on a lavish date. Have them wear the Moxie vibe during the date for bonus sexy points. Single Cancerians would be wise to spend time with friends month, and let it be known they are open to being set up on a date!
Leo
This should be a great social month for you Leo's, so get out there and mingle. If you've got someone to go with, plan an adventure date, maybe even bring your fave travel toy, and get out there and explore. You should be getting clarity on some issues this month that you've been trying to pinpoint.
The Full Moon on the 17th is in your house of romance, so switch gears a bit and turn that outgoing energy to a more inward one. Lavish yourself with romance, perhaps using your fave sex toys to really overwhelm yourself with self-love. You deserve it Leo's, you're always taking such good care of your loved ones, give yourself a bit of that love first.
Virgo
You've got a fair bit of planetary action that doesn't mesh particularly well with your innate vibes this month Virgos. Because of this, make sure you take the time to do whatever you need to do to stay grounded. Take long baths, gentle walks in nature, mindful masturbation can be helpful, or even just go stand outside with your bare feet on the earth for a few minutes. You'll thank me later, I promise.
When the Full Moon hits Sagittarius on June 17th, it will give you some deeper insight into what you want out of life. It should also give you an uncharacteristic confidence boost to pursue it. Get after it Virgos, life is short!
Libra
This should be a pretty sexy month for Librans, with Venus blazing through some sexuality and romance aspects of your chart. If you've been feeling all fired up for no reason you can figure out, that's why! When Venus moves into Gemini on the 8th, you should be careful your sweet mouth doesn't get you into trouble. Maybe plug it up with a ball-gag, you know, just to be safe.
Don't use your charming powers for evil Librans, come to the light side! Your charm can be a superpower, and when you combine it with this chatty Venus in Gemini energy, your gift of the gab will be golden. Use it to have meaningful and sexy conversations about masturbation this month, and maybe even try some mutual masturbation!
Scorpio
Hopefully you did the reflection necessary during the Scorpio Full Moon last month to get clear on your true wants and needs. Because with the new moon on June 3rd in your house of intimacy, the urge to partner up will be strong. I know, it's warm summery uncuffing season weather, not cuffing season, but the stars want what they want.
With the Full Moon in Sagittarius on the 17th, you should start to feel a little more frisky and adventurous again. You may be feeling the desire to go deeper with your sexuality and explore something taboo. Whether taboo to you is leaving the lights on, or exploring BDSM, go for it! The stars have your back.
Sagittarius
Mars, the planet of action, is in your house of sex and intimacy this month, which might change up your usual sexual energy. I know you like the lighthearted fun, but try slowing down and connecting with what really makes you tick. What do you truly want out of a relationship? Regardless of if it's a one night fling or a lifetime commitment, it's time to figure out exactly what you want.
Mercury will be in Cancer June 4th, and on June 21st the Sun enters Cancer too. Mercury rules communication, and Cancer energy is nurturing and emotional, so this is the ideal month to tell yourself, and others, how you feel and what you wany. Don't be scared to speak from the heart. And if it all feels like too much, give yourself a break and channel the conversation over to the dirty kind with some phone sex or sexting.
Capricorn
This should be a fairly quiet month for you babes, with not much drama afoot. Building off your work from last month on your feelings, harness all this Gemini energy to start… now bear with me here… letting those feelings out. What? Gasp! I know, it's scary for you. It's okay to have feelings, and when you share them with others it won't ruin your life. While they might not always be reciprocated, sometimes they will. And when they are, it will make the risk of being vulnerable feel worth it.
Speaking of sharing, your lovers can't read your mind Capricorns! Devote some energy to relaxing and sharing with your partners this month. Most Caps are really business minded, so try some Veritas Farms CBD to help you unwind from work-mode and get into sex-mode. Hop into a bubble bath, either solo or with a partner for bonus points. Once you're relaxed, you can get into some sexy playtime. Let them know what your desires and needs are, they aren't mind readers. Besides, both dirty talk and feelings talk can be very sexy.
Aquarius
Well, the New Moon on June 3rd is in your 5th house of romance this month, so it's time to get into an amorous mood. If you have a little trouble coming down from your home planet and getting into the earthly vibes with us mere mortals, we understand. Lavish yourself first with some romantic energy, perhaps with an amazing new hands-free wearable vibrator. Once your romance cup is filled up, you can pour it on out to others.
With all that romantic energy afoot, you may be feeling very sexually charged as the month progresses. Explore some less traditional sexy fun like Orgasm Denial (a lot more fun than it sounds). Or if you're really adventurous, try some Consensual Non-Consent play.
Pisces
This is a powerful month of romance for you fishy babes. With Venus moving through your houses of communication and home and family, you'll be getting some clarity on how you truly want your life to look. This is a great time to journal about your hearts desires, both short term, and long term. Then once you're clear, you can start spreading the news.
Mars is still moving through your fifth house of romance until July 1st, so expect even more tears and feelings than usual. Your tears will be refreshing though, as they will uncover the deeper truths you've been yearning to know about your hearts desires. Self-care will be key to your success this month. Take a long bath to unwind after all this processing, and perhaps indulge in a self sensual oil massage with some organic love oil.
Aries
With Mars and Mercury both in Cancer this month, and Venus in Gemini from June 8th, this is a big month of duality for you. The first half of the month should see you focused on gaining clarity of your wants and needs. Consider what you truly desire from a relationship. Regardless of if it's a fledgling romance, or one years in the making, it's never too early or too late to lay down some ground rules. You're the boss, just how you like it.
You may be feeling more emotional than usual lately, and don't be shy to share those feelings with a lover! Whisper sweet (and dirty) nothings in their ear while you get exactly what you want from your sex life. If you're single, try out some super effective and straight to the point sex toys like the Fleshlight or the Magic Wand. Take charge of your pleasure.
Taurus
The Full Moon in Sagittarius on June 17th is going to be lighting up your house of sensuality. Indulge in all of your senses this month, you deserve it. Make yourself a platter of edible treats you love, light some candles, play some music, and lay out all your fave sex toys. Give yourself a buffet of pleasure and dive right in.
With the Sun in Cancer on the 21st, you'll be getting more in touch with your emotions than ever. Harness the power of talkative Gemini season to tell people exactly how you feel. You might just be surprised by what you hear in return.
Happy Gemini Season! Now go start some conversations…
---
Isabella Frappier is an Australian ex-pat living in LA, who swapped gumtrees for palm trees. She's a writer and a holistic Sexuality Doula, who specializes in body literacy, sexual sovereignty, and BDSM.
She is also a host on the popular new Sex Magic Podcast. When she's not busy championing her sex positive agenda, she—oh wait—she's always busy doing that. Follow her adventures on Instagram.