Kick Off Summer With a Bang: Memorial Day Weekend Sex Tips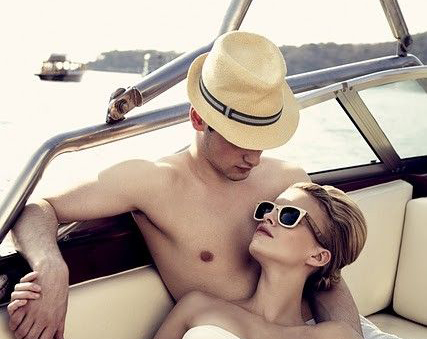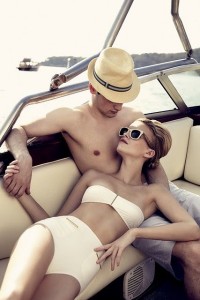 In addition to being a holiday of remembrance, Memorial Day weekend is kind of like the unofficial welcome back party for summer. Over the course of the weekend, we will ceremoniously say goodbye to Pumpkin Spice lattes, Ugg boots and oppressive winter layers, and open our minds to the scintillating possibilities of the summer season. Barbecues, beach trips and warm weather adventures are right around the corner, so why not start the season off with a bang… Literally!
I'm a firm believer that the way you kick off this 3-day weekend sets the tone for how the next 3 months will go. And I don't know about you, but my ideal forecast for this holiday weekend (and the summer that follows!) is lots and lots of hot sex.
Here are 5 sexy suggestions for making this Memorial Day weekend extra memorable…
Get Busy Outdoors
With summer gearing up and the promise of beautiful weather fast-approaching, why waste your weekend indoors with the air conditioning cranked up and the shades drawn?
Outdoor sex is a common fantasy, and the change of locale (paired with the fear of being caught) can add a scintillating rush to any regular love-making. Plus, it forces you to break from your regular sex routine and adapt to your new surroundings. Go camping, take a hike or find a secluded beach (emphasis on secluded!) and get busy au naturale. If indecent exposure isn't your thing, hit the backyard for a less risky but equally sexy outdoor experience.
Take a Drive
Road trips are a staple of summer fun, as are long meandering summer drives with the windows down, the radio blasting, and of course, your partner by your side. It reminds us of being young and wild and carefree.. And you know what else reminds us of being young? Car sex!
Sex acts of any kind in a moving vehicle are an absolute no-no, but if you're cruising with your guy and a naughty thought crosses your mind, there are a few ways to get the message across. If your partner is at the wheel, slowly let your hand creep up their leg, then lean over and gently plant a couple kisses on their neck—they will get the idea. Once the teasing gets too much, have your partner pull over to a secluded area. Park the car, kill the engine, recline the passenger seat and do it like teenagers—Bonus points if you've stashed your favorite sex toy in the glove compartment! The Mystic Wand from Vibratex makes for an excellent travel toy due it's lightweight design, powerful vibrations and the fact that it's compact enough to fit inside a day bag!
When it's all over, crank the AC and bask in your shared naughtiness before you get back on the road!
Get Wet
On long warm weekends such as these, hot bodies everywhere naturally make their way to cooler, wetter places to enjoy a little fun in the sun. But while oceans, lakes and swimming pools may seem like the perfect place to sneak in a quickie, fully submerged sex puts you at risk for all kinds of infections, not to mention vaginal tearing.
For a risk-free, but equally sexy, water experience, look no further than your own bathroom! Shower sex is the perfect hot weather sex attraction, for a number of reasons: The limited space requires you to get creative with your sex positions. The cleanup is minimal, so you can work up a sweat and get squeaky clean, all in one go. Plus, contrary to popular belief, cool water actually heats up your sex drive! It stimulates circulation, meaning blood will flow more easily to the places you want to feel it most.
And for those of us who like our showers solo, you can always include a companion of the sex toy variety. The We-Vibe Tango makes for a stellar shower buddy—It's petite, powerful & 100% waterproof! And for guys, the Fleshlight Quickshot can make your shower sessions a quick and pleasurable affair.
Be a Tease
Part of the appeal of a long weekend is that it gives you plenty of time to extend your pleasure and get the most out of every sexual act. Teasing is a classic way to start up something steamy and the longer you savor the suspense, the better!
The sexiest teases draw on all the senses; by removing one sense, like sight for example, it sends all the others into sensual overdrive… I think you know where I'm going with this! Bringing a blindfold into the mix can really turn up the sizzle factor. It allows you and your partner to explore different types of sensations in a whole new way, whether it's the the sexy shock of an ice cube traced across your body, the gentle caress of a silk tie or the penetrating buzz of a hand-held vibrator… Like The Rabbit Company's Lay On Rabbit vibe, for example!
The whisper-quiet Lay On vibe is specially designed to stimulate every erogenous zone, delivering the perfect amount of vibrations to set all those nerve endings on fire! Plus, the adorable (and functional) "ears" are great for targeting those especially sensitive areas, like the nipples, lips, frenulum and clitoris.
Take turns teasing and being teased until you're both so hot, there's nothing left to do but ravage each other. And since you've got nothing but time to please and be pleased, try bringing Promescent into the mix and make love longer… All. Weekend. Long.
Cross at least ONE thing off your sexual bucket list!
Whether it's a change of locale, a new sex position, a kinky role play scenario – whatever! Take advantage of this long hot weekend to mix things up and explore uncharted territory in your sex life. If there's something you have always wanted to try, now is your chance to play out your deepest fantasies and cross a couple items off your sexual bucket list. And if your list is looking a little short, take the weekend to do some erotic soul searching and beef that baby up!