Labor Day Laid Over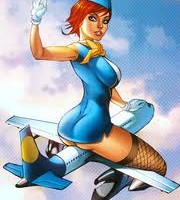 So, it's the end of the summer, body tanned and hair is bleached. It's time to flaunt and use it before drab winter layering comes into play.  Bbq, beers and frozen daiquiris won't show up on the figure until after the weekend and everyone is just hotter and hornier for the last summer vacation of the year.However, if you're traveling to a Labor Day destination be prepared for a sexual fun and fantasy interruption.  With air delays these days, some tramp that may have already stolen the object of lust and, the party may just have to be up in the air.
On behalf of the unreliable airline industry, we come up with these "Labor Day Laid" tips.  Even if you don't get to your destination – you will get screwed:
1)   Vixen it up-   I don't care how much you are longing to wear sweats on a six hour ride.   Don't. Wear your most figure-flattering items with the sexiest lingerie underneath (hey, and an extra pair of lacy panties in the carry on) .  Powder on some Crazy Girl diva dust (only .5 ounces, perfect carry on size), a sexual attractant .  You never know who your seat neighbor will be or if that cute airline employee will give you an upgrade with a hint of cleavage or whiff.
2)   Pack accordingly for personal pleasure –  Sometimes it is just too much effort to attract a partner, so pack a pocket size vibrator such as  Jimmy Jane's Iconic Pocket and some Crazy Girl one ounce intense orgasm gel.
3) Better than airline food: seat passenger fellatio-  if you want to provide pleasure, make friends, and enjoy sweet taste bring along Your Masque dissolving strips in an array of flavors including chocolate, mango, and strawberry.  Packaged as a 3″ by 4″ flat cardboard, they add no space or weight in a carry-on.   So pack for yourself, your neighbors and enjoy.
4)  Flight delay?  Get an airline lounge pass-  Stereotypically a privilege provided to first class travelers, airlines now are offering the option of purchasing a pass for  around $50.00  Fortunately the crowd in the lounge remains upscale as is the feature of open bar.  Additionally seats are comfortable, large and, sometimes you will find a large, handicap, unisex bathroom.
5)  Don't leave anything behind- If anal sex is your thing then airline flying is no reason to neglect the derriere. Crazy Girl's tushy teaser for anal stimulation is petite, pink, and discreet.  Their wanna be daring desensitizing gel looks like a sample-size high end face cream.  Again, no added weight for your carry on.
6)  And, finally, a handy diagram for the The Mile High Club: