Let's Have a Ball!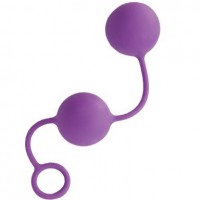 From the Ben Wa balls featured in Fifty Shades of Grey to the countless mentions of Kegel exercises in mainstream media, Kegel balls have been flying off the shelves faster than you can say "explosive orgasm." Good Vibrations, the trusted San Francisco-based company that takes pride in providing accurate information on sexuality and toys for grown-ups, invites you to grab a pair and get in shape!
 "What the hell are Kegels anyway?"
One of the most frequent questions heard in Good Vibrations retail stores is simply, "What are they?" Kegel exercises (named after the gynecologist who developed them) can help men and women tone their PC muscles. The pubococcygeous muscles, better known as the PC muscles, run from the pubic bone to the tailbone and support the pelvic floor. These are the muscles that contract involuntarily and rhythmically during orgasm.
Many people experience increased sensitivity, better orgasms and greater G-spot (Prostata Femina) stimulation with toned PC muscles from Kegels. Plus, you can do these exercises anytime, anywhere… so there's no need for a gym membership!
Good Vibrations Staff Sexologist Dr. Carol Queen adds, "Beside the value to a person's sexual response and health from Kegel exercises, PC exercise tools such as nJoy's Pure Wand and Fun Wand, or the range of Kegel balls like Duotones, Smartballs, Luna Beads, and the Ami Kegel set make for fabulous sex toys. Their rounded shape is good for G-spot or prostate stimulation, and tugging on a bar, or the string on a set of balls, creates unique erotic sensations. Just make sure to use them safely: no anal insertion of such an item unless it has a base or a firmly-affixed cord."
From left to right: Smart Balls and Ami Balls
Kegels: The Most Important Sexercise You're Not Doing
It's a little known fact that Kegels can benefit people of all genders. Depending on one's anatomy, Kegel workouts can help us experience longer, stronger orgasms and fewer bladder issues before and after childbirth, and provide firmer erections, greater stamina, bladder control, and a healthier prostate. Dr. Queen reminds Kegelers to heed the advice of pelvic floor specialists: "Just remember that this is not just about tightening or squeezing the PC muscles, but also about relaxing them. A complete Kegel exercise must include both, just as any other muscle exercise involves both tension and relaxation."
The Kegel Camp app
Emily Morse has an app that makes Kegel exercises fun and easy, guiding users through 20 gratifying workouts that benefit women and men. Emily, your personal trainer, has recently taken Kegel Camp to the next level – literally, by adding 11 new levels to her sexercise routine. Kegel Camp is available from Apple's App Store, and customers receive a coupon for 15% off their next purchase at Good Vibrations, where they can find a host of Kegel strengthening products, including the brand new Sex With Emily Kit.
With the help of Kegel Camp
You'll start at Level 1, with slow, simple reps. As you progress through levels, the app introduces new speeds and variations, eeping the exercises challenging. You can always set your own level manually, to dial in exactly the right degree of difficulty. Once you get the hang of it, you can do Kegels almost anywhere: stop lights, elevators, plane rides, or at work. Just follow along with Emily as she coaches you through your daily sessions and you'll soon notice the improvements.
ABOUT GOOD VIBRATIONS
Good Vibrations is the San Francisco Bay Area based retailer trusted for more than three decades to provide a comfortable, safe environment for finding sex-positive products and educational materials to enhance one's sex life. Good Vibrations offers its products through its retail stores and website, goodvibes.com. Stores are located in San Francisco, Berkeley, and Oakland, CA and in Brookline, MA.