Lingerie in Las Vegas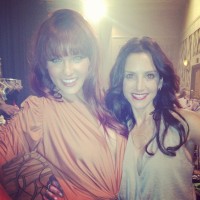 With the promise of an open-bar and booty (tons of prizes), I arrived at the International Lingerie Show. Lou Rivers of Nature Lovin' Lubricants saved me a seat in the front, although most of what I saw was the backsides of lingerie models. It's probably the most butt cheeks I've ever seen. The models strutted down the catwalk showing off their assets– pasties, garters, corsets and fishnet stockings. In the beginning I found the whole display a bit disturbing. The audience was packed with older men leering at beautiful young women as if they were glittery objects. I found myself objectifying the women as well, captivated by their nearly nude bodies. Gender stereotypes are so painfully obvious in Las Vegas, and I felt sad that the model's jobs are essentially to please men. But these women work hard for a living and it's not my place to judge what they do. Plus I can't even walk in 2-inch heels let alone 5-inch metallic stilettoes.
Although the women were mesmerizing, the highlight of the show was the two male models. They strutted down the catwalk adorned in white lace and pink trill from Homme's Mystere. The lingerie line played with people's preconceived notions of masculinity by dressing muscular men in feminine nighties. Or they were going for and obvious crowd pleaser of men in pink panties. The men reappeared later in Fetish Fantasy gear—assless leather chaps, a studded collar, and a leash to tie the look together.
Our very own Emily made an appearance on stage, terribly overdressed in a pantsuit. She gave away 12 Ways to Boost Your Libido and 10 Ways to Go Longer and Stronger from Sinclair Institute to two lucky people in the audience. They weren't the only winners of the night. The crowd scrambled to the stage for the giveaways, arm outstretched to win glittery pasties, leather whips, and a giant dildo. I even won this gem—Color My Boobs: A Titillating Coloring Book For Adults.
The show ironically ended with the Forplay lingerie line. The models came out in short, tightly fitted dresses that looked like nun outfits compared to the lingerie seen earlier. The show got to the main event early and finished with a finale of "forplay" that almost no one remembers thanks to the open-bar.