Male G-spot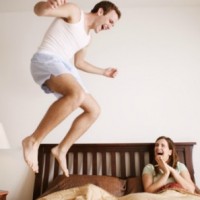 So by now you probably know about the female G-spot, but what about the male G-spot?
Men are always talking about how women aren't adventurous enough in bed. They desperately search for ways to get their girlfriend to try bondage, have a threesome, or get more blow jobs.
But what about the men?
Not only do they need to be going down on women more, but it's time men become more adventurous. They need to step outside the comfort zone they built from porn clips when they were thirteen.
If men stopped resisting everything they think challenges their masculinity they could be free to experience gobs more pleasure. Plus, a dude who's actually secure with himself and his sexuality won't be worried if something he's doing is manly enough.
Which brings me to the prostate: the male G-spot. Yep, men have one too and it's in their butt. Gentleman, it's time to go on an adventure through the backdoor.
This wonderful infographic from Max4Men explains what the prostate is and how to pleasure it.
Max4Men's Stimulating Male Prostate Gel is formulated with clove oil for increased sexual intensity and Niacin, which plays a vital role in blood circulation to the penis and prostate areas. Use coupon code Emily25 for 25% off at Max4Men.com.
The Male G-spot Infographic