Mismatched Libido Medley: 6 'Best Of' Blogs & Podcasts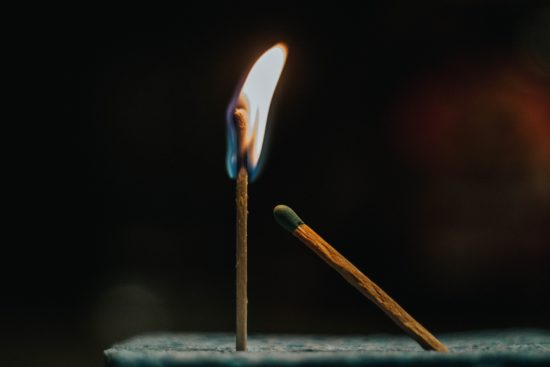 There's a lot to get hung up on when traversing the world of sex.
However, if there's one thing that takes the cake, it's how to navigate the mystery of mismatched libidos.
In addition to a head, heart, and opinion about the Game of Thrones series finale—everyone has a sex drive.
Some are naturally high, some are low, but either way, it's important to know there's a lot that affects and goes into managing it.
To help get to the bottom of this and more, we're happy to present a mashup of our favorite blogs and podcasts that can help guide you on the journey.
BLOGS:
TAKE CONTROL OF YOUR SEX DRIVE
For a little background on how our libidos develop in the first place, check out this tip-filled blog on how to take control of your sex life.
Since sexual desire is something that always fluctuates, knowing what factors can (and do) have an impact allows you to take the reins. Figuring out how to sexually sync your mind, body and spirit can have a life-altering effect. So do yourself a favor and explore each of the pieces that play a major part in it all.
6 SEX ISSUES A LOT OF COUPLES FACE
Despite no two couples ever being exactly alike, there are certain romantic ruts a lot of them tend to face. Mismatched libidos included.
Being at odds over how often you each do or don't want sex can lead to a variety of emotions. So our blog about the most common intimate issues couples face dives into all the ways to best combat them.
SOLVING SEXUAL LAST RESORTS
Sex, at times, has a way of feeling overwhelming. Though it's never time to give up! A good sex life is always worth fighting for. So, if you're feeling in the dumps about not having enough time or energy to keep up with your (or your partner's) libido, this blog on how to solve our sexual last resorts could be just the thing to help.
Exhaustion from things like work, family, and keeping up some semblance of social lives doesn't typically propel intimacy to the top of the to-do list. However, we're happy to report that the path to better sex can, in fact, be a lot simpler than you think.
PODCASTS:
MASTURBATION, MANSCAPING AND MISMATCHED LIBIDOS
One of the biggest questions couples tend to have is how to make a relationship work when you have opposite sex drives. So Emily has your back by answering that and more in the episode Masturbation, Manscaping and Mismatched Libidos.
Since you never know for sure whether you'll experience it until you do, clashing libidos are a hard one to tackle. What can make a world of difference is finding ways to stay relaxed, spice things up, and map out your romps in advance. Trust us!
MAKE YOUR LIBIDO GREAT AGAIN
Biology is a funny thing…except when it puts a damper on your sensual cravings. While it's common sense that details like age, lifestyle, and relationship status can play a part, Emily covers the slew of lesser known yet just as potentially potent causes in the episode Make Your Libido Great Again.
You can't know how to fix something without knowing the root behind it. So taking things into consideration like medications, changes, distractions and even the arrangement of your bedroom can be the key to help crack a lacking libido.
THE MODERN MAN'S GUIDE TO MISMATCHED LIBIDOS
We always hear about lower sex drives from the perspective of women, but the truth is it can happen to anyone! On this episode, The Modern Man's Guide to Mismatched Libidos, Emily explores how men experience lesser libidos, too.
From generating arousal, to the power of putting yourself in your partner's shoes, she discusses all the things that play into how much desire a person feels. With additional insight from Sex Therapist Dr. Ian Kerner, the two get to the bottom of how to overcome this age-old obstacle.
OTHER TANTALIZING TIDBITS
Most aspects of relationships boil down to compromise – and if you're dealing with mismatched libidos, that couldn't be any truer. It's not about giving your partner an ultimatum or saying say it's my way or the highway. There isn't a "correct" answer as to how often we should want sex.
Nor will there ever be one.
What's amazing about our libido is the fact that it can be totally malleable, as long as you're willing to put in the work. So if you and your partner are compatible in all the ways that matter, you should be able to strike a compromise and meet in the pleasure-filled middle.
---
Alex Anderson is an LA-based lifestyle designer proactively raging against the cultural grain. By day she works in television production, and by night enjoys writing, sewing and seeking guidance from the stars. She also finally has an all black kitty named "Cher." You can follow her website and on Instagram!