The Most Ingenious Sexcessary We Wish We Thought Of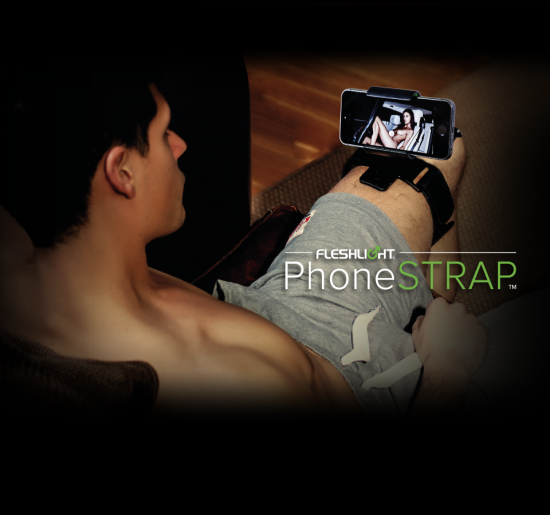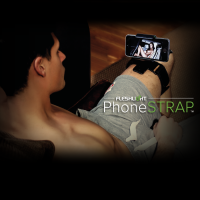 The Fleshlight PhoneStrap is designed to secure your smartphone or mini tablet to your leg in order to provide easy viewing of the screen or effortless use of a webcam while completely freeing up your hands during solo play.
Fleshlight asks its users to "Dare to Fantasize," but it's not easy to do when you're juggling your smartphone or mini-tablet. That's why they created the ingenious PhoneStrap.
This multi-functional sex toy comes in 3 parts:
A clip "designed to secure your smartphone or mini tablet to your leg
A clip extender that helps you secure your phone or mini tablet (up to 5.5" wide).
An adjustable strap made of a thin neoprene material for enhanced comfort. It's fully adjustable up to 25.5" around with hook and loop fasteners on each end to make it easy to cinch to your leg.
The PhoneStrap is a way for the modern man (or woman) to have fun in or outside the bedroom.
Here are just a few ways the PhoneStrap will change your life:
1. You can discreetly watch the game at work without having to hold or prop up your phone.
2. Keep your phone or mini tablet handy as a "second screen" while watching tv.
3. Video chat with your partner from a more suggestive angle that can show more than your face. Either way the PhoneStrap frees your hands to use other Fleshlight products while enjoying entertainment on your device.
4. If you're in a long distance relationship, your partner is away on a business trip or you're just looking to add a little bit of spice into your love life why not try the Fleshlight PhoneStrap?
5.  Imagine Facetiming – naked and with your hands free. Imagine being able to touch yourself anyway your partner wants as they guide you towards a pleasureable peek?
6. Don't have a significant other at the moment? That's fine- watch your favorite sexy videos on your phone or tablet, relax and enjoy as you don't have to worry about keeping your phone propped up on a pile of books or hill of pillows!
We live in a world in which technology has made its way into almost every aspect of our life. It's a fun challenge to incorporate technology into your sex life and use it to your advantage.
Check out these first hand reviews for the PhoneStrap:

"I'm really digging my new PS for watching TV and chatting with friends on social media at the same time! At work, I can watch the ball game discreetly with my headphones on. I even made dinner with a recipe strapped to my leg the other night, haha" Rich
"My hands are totally free to do whatever I need! It is really one of those products where you are like, "Why didn't I think of this?" The PS gives me the ability to multi-task at a new level. Definitely keeping this close at all time! Very cool product!" JT
"Holy hell! those mad geniuses at Fleshlight have done it again. Never again will I have to erect a leaning tower of toiletries  just to get my wank on. I mean seriously this thing is exactly what I never knew I needed. The only thing I have to say is 'thank you'" CaptainBeefStik

So, what are you going to do with your PhoneStrap? We're dying to know..

Can't get enoughSexWithEmily?
Subscribe on iTunes and never miss your bi-weekly Sex Ed…