My First Footy Call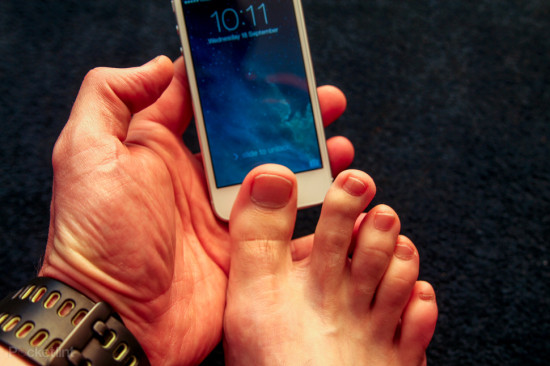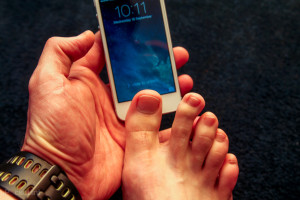 We go through a lot of different themes here at Sex With Emily, which means I'm constantly learning new things about my sexuality. This month, I took my research very seriously and committed to "Taking the 'Freak' Out of Freaky Sex." I logged back onto my dating apps to start the process.
Most guys I chatted with started to ask the usual. Want to hook up? Need a friend? How are you still single? (Um, Thanks). My freaky sex month research was starting to look very vanilla until Mr.FetishFriendly92 found his way into my inbox.
Mr.FetishFriendly92 and I started chatting about music, food and tv. It seemed we were definitely a good match, so much so, that I almost forgot about his username. I knew I had to fulfill my research, so it was time to ask him the meaning behind his username. He revealed to me that he has a foot fetish that began back in his college days. He enjoys the smell, texture, and taste of men's feet. It was completely legit. He even asked for a foot pic. Most guys only care for dick pics, so I was all game. No harm in a foot snapshot, right? I guess we were sexting at that point because he started telling me that he was horny and wanted more. I didn't know what I was about to get myself into, but it was definitely putting me in the mood.
My birthday weekend was coming up, and I wanted to do something different this year. I was over Vegas and the local dive bars; I needed intrigue. I've never met anyone with a fetish, so he was the perfect candidate for shaking things up. I was alone for an hour, so I rang him up for a footy call and invited him to my house. He was tall and very handsome; his profile picture didn't do his beauty justice. I was also extremely glad that I wasn't about to be the next subject of a Catfish episode.
The Footy Call
We relaxed in my bedroom and continued our conversation like we were friends since grade school. The feeling was right, and my shoes began to come off. He was so smooth with his movements, and all he was doing was taking off my socks. I mean, I was already so turned on and I was still wearing my pants. He started massaging my feet and started some dirty talk. He was so considerate in making me comfortable, and even asked me to create a safe word. He lifted my feet and put them on his lips. My half boner turned into a full erection after that. His lips felt so soft on my feet, and I couldn't believe they were so sensitive to his touch. He definitely knew what he was doing because I was squeezing my pillow harder than ever.
The light pecks on my feet were cute, but I was ready for more. He started sucking on my toes and caressing my legs. It was like he was making out with my feet and I was in some kind of foot fetish heaven I never knew existed. He told me my feet were the best he's ever seen. My feet don't blush, but they were tingling like never before. It was such a perfect evening that I invited him over for seconds the next day. It was even better than the night before. He learned the sweet spots on my feet (yup, they're there) and knew his way very well. He asked me to become one of his regulars, and I accepted. I knew the inevitable was around the corner, but I waited for another day to make my next move.
Returning the Foot Favor
He invited me to his guest room for our next adventure. The music and candles set the mood; It was time to meet him halfway. He started kissing my feet and doing his regular routine when I asked him if he wanted me to do the same. He instantly perked up, so I knew the timing was right. I started to massage his feet just like he did to mine. I tried to do the things I enjoyed on my feet on his. I didn't really know what I was doing, but I wanted to pleasure him because he'd been so good to me and my feet the nights prior. I don't know if I was holding his feet too tight, but he was twitching every minute or so. He confessed that his feet were ticklish. I couldn't believe he of all people had ticklish feet, but we made the best of it. We continued to make love to each other's feet, and our clothes came off. It was one of the most intimate experiences I've ever had, and although something I've never tried, it felt so normal.
October may be coming to an end, but I am not done exploring my sexuality. I'm fortunate to have met someone who taught me a different way to appreciate the human body, and show me a kink I never knew I had. Maybe we'll find other new sweet spots together. I don't know when we'll meet again, but I sure hope it's soon.