My New Best Friend. Hint: It Vibrates.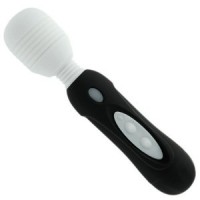 Diamonds have always been a girl's best friend. That is, until I met my new BFF's– premium vibrators.
The Mystic Wand Waterproof Vibrator is my new favorite. It's a clitoral stimulator with different speeds, which satisfy the new sex toy user as well as vibrator connoisseurs. I should also mention that the Mystic is the little sister of the Hitachi Magic Wand, one of the most powerful vibrators in the world.
I unwrapped my Mystic from it's velvety bag and nestled myself inside my satin sheets. The delicate curves of my body met with the soft pink silicone body of the toy. I turned on the power button and my Mystic proceeded to give me an other-worldly experience, from the gentler touch of level one to the flurry of slow, medium then fast vibration up to level six.
The Mystic is battery operated, not to large, has a stylish design, custom settings, and is the ultimate orgasm machine. This is by far one the most powerful vibrators I have felt that also has the capability of operating gently. Regardless of your individual level of sensitivity or your clitoral desires, the Mystic will send you reeling with pleasure.