Next Year We Want An Invite – Ode to Ivan the "Peaceman" and His Parties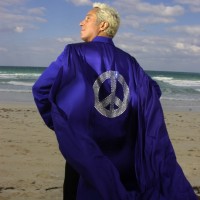 Why weren't we invited?!  Hopefully the weather, water and parties in San Francisco will heat up soon…
On August 21, Sir Ivan Wilzig, also known as the "Peaceman, " threw his annual Hamptons bash at his medieval-style estate, "The Castle," in Watermill, New York, dubbed the  "Playboy Mansion" of the East Coast. Wilzig's family survived the holocaust before making riches in oil.  Now he produces music, throws sexually charged parties, and raises money for his charity, The Peaceman Foundation.  The most recent party, asking guests to dress up as scantily clad animals, featured some non-Peaceman like antics.
According to the NY Post a "blond woman was having sex in the water with a Frenchman before switching to perform a sexual act on one of his pals," while her ex-boyfriend watched. "He was just getting more and more angry," a witness observed.  A female friend of the frisky lady's ex, stepped in and was overheard screaming at her.  Then, according to the source, "The woman, who was fully dressed, went to the steps of the pool, where the blonde was sitting and punched her three times."  No partygoers, unfortunately had videos or photos of this supposed catfight.
Sir Ivan called the article "false" on his Facebook page; and, we would like to concur.  Reports and photos from the party only show scantily clad partygoers having a great time.  A regular of Ivan's annual bash just reported that it "was a great party" which "lasted longer" than in previous years.  He did confirm some topless women sightings in the pool.  No threesomes to report, but, hey who knows what happened in the afterhours?
Sir Ivan is known for his euro remix of John Phillip's "San Francisco" (Be Sure to Wear Some Flowers in Your Hair) under his label Peaceman Music, and we would like him, his castle, plus his antics to come here (or maybe a plane ticket or two to come out)!