Lasting Longer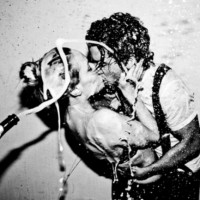 It's every man's biggest worry- "Do I last long enough in bed?"
Surveys show that most men don't believe they last long enough. If your climax comes after a few minutes of intercourse try using these tips…
Warm up
Just like you would stretch before playing a football game, warm-up before sex. This is also called "pre-gaming."
Masturbate before you participate in intercourse so that you feel like you can last longer. Don't masturbate to reach a climax, masturbate to warm-up.
Wait…
Wait a while before you penetrate your partner.
Steam things up with lots and lots of foreplay. Make sure you're giving her plenty attention so she is also warm and ready for you.
This will at least delay pre-ejaculatory penetration and increase the quality of your sexual connection.
Know What Gets You Off
Most men have a favorite position, or a position they most often ejaculate while in. Take notice of this.
If you usually ejaculate while penetrating her in the doggie style, save that position for later.
Try letting her get on top or missionary position before arranging yourself in your ejaculatory position
Work It Out
Kegel exercises strengthen your PC muscles, also known as pee-stopping muscles. The more you build up these muscles, the more stamina you have during intercourse.
Take a few minutes a day to tense and relax these muscles, the stimulation will help you last longer in bed.
The Start-Stop Method
The tired and true start-stop method can help you teach yourself ejaculatory control and helps you last longer.
While masturbating, stimulate your penis until you feel ready to orgasm then stop.
Why the torture? By using this method you're finding your point of no return, the moment before orgasm.
By doing this you're teaching your body and mind to be comfortable with a heightened sense of arousal.
Make Sweet Love
Don't have sex the same way you masturbate. Quick thrusts and a finish won't help the situation and won't be pleasant for her.
Take time exploring the whole sexual cycle. Slow things down and work on different thrusting techniques. The term "Motion of the ocean" has its merit.
Don't have sex like you're using your partner as a replacement for your hand. Enjoy the sensuality that sex can create.