Nursing Home Sued For Hiring Strippers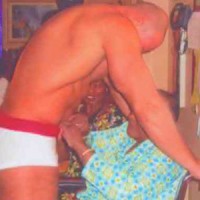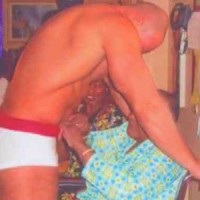 How would you react if you saw a picture of your 85-year-old mother stuffing dollars down a male strippers briefs?
A Long Island nursing home is being sued by Franklin Youngblood, who was outraged over a photo of his mother will bills that were supposedly locked away. The New York Post reports that a low-rent Chippendale's-like group was hired by the East Neck Nursing Center in West Babylon to entertain some elderly residents earlier this year.
Youngblood was disgusted when he found a picture of his mother, Bernice Youngblood,  whom he believes isn't capable of understanding such wicked activities. When the family complained to the staff, the center's workers merely laughed it off, assuring that the show was put on under "good faith" and to show the old folks a good time.
"Plaintiff Bernice Youngblood was placed in apprehension of imminent, offensive, physical harm, as she was confused and bewildered as to why a muscular, almost nude man, was approaching her and placing his body and limbs, over [her]," the suit states.
Youngblood found the photograph amongst her belongings during a visit and was also upset to find out that the dollar bills his mother used came from a commissary account, which is supposed to be locked.
While the women in the photo clearly look like they are enjoying themselves, the suit claims that the strip tease was not meant to entertain the residents and was really "for the perverse pleasure and enjoyment of the Defendant's staff."
Youngblood's attorneys are arguing that Bernice "lacks the mental and physical capacity" to refuse the dance.
"Bernice Youngblood has lived 85 years as a traditional Baptist, hard-working, lady… And now she has been defiled," the family's attorney said.
Perhaps the old, hard-working woman just wanted to spend her money on some fun rather than give it all to her nosey son when she dies…