Oral Sex is for (Self)Lovers: An Independence Day Celebration!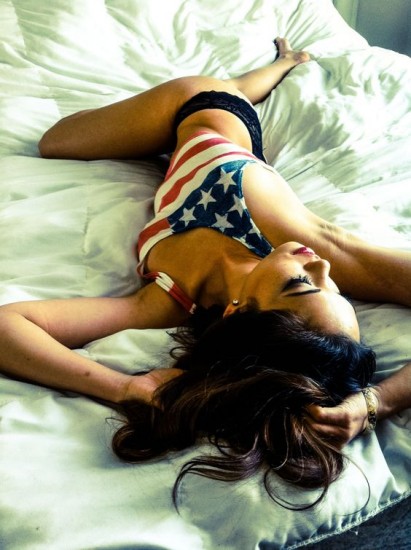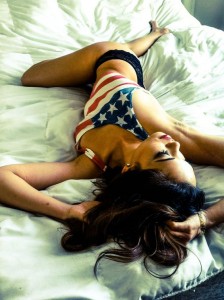 Happy 4th of July weekend, everybody!
How time flies… It seems like just yesterday, I was advising you on how to sex up the most popular couples' holiday of the year (thank god Valentine's Day has passed, am I right?)
Now we have reached another important landmark, but this one has an entirely new twist. Because instead of lighting off bottle rockets at BBQ's to commemorate yet another couple-heavy holiday, we are instead celebrating the anniversary of a historical UNcoupling.
On July 4th, 1776, the thirteen united colonies (that we now know as the New England states) made the difficult decision to bid adieu to a relationship that just wasn't working out. England had been controlling them for far too long, they decided; it was time for these new states to go their own way. Thus, they said "Bye Felipe" to the motherland, and declared themselves an independent and free nation… Then they partied!
Okay, I may have paraphrased a bit, but you get the picture.
Whether you're in a relationship or are single and loving it, independence is an important quality to have, one that certainly deserves some celebrating. And you know how I like to celebrate my independence? By taking care of myself… Sexually.
Nothing makes a woman feel more empowered than realizing that we don't need a partner to bring us pleasure—No lover in your life? No problem. We can do it all by ourselves! Except for one extremely pleasure, totally partner-reliant sex act: Cunnilingus. We can stroke and caress and rub ourselves until the cows come home, but there is no way we are getting our own mouths anywhere near our lady parts… Not even if we wanted to.
So how is a girl to scratch that oral sex itch without depending on a partner to perform the act? Unlike our forefathers, who had only a feather plume and a roll of parchment to help them seal the deal, we've got a world of tools at our disposal. I am of course referring the wonderful world of sex toys and products. Back in the 19th century, sex toys were created to cure hysteria—Now they can do just about anything… Including recreate the sensations of cunnilingus!
This 4th of July, celebrate your independence by serving your own oral sex needs. And to help you get the job done, here are 4 products that are sure to make you see fireworks…
1. The Touch by We-Vibe
No matter how amazing a partner's oral sex skills may be, there's one thing a tongue simply can't do, and that is vibrate. Sure it can do the wave, or duck and dive, and it can waggle around like no one's business, but it will never be able to send penetrative pulsations coursing through your clitoris. Luckily, the We-Vibe Touch can!
This sensual hand-held vibrator is expertly designed and contoured to look (and feel) like a tongue—the pointed tip provides direct, buzzy vibrations in 8 different patterns, while the soft, sculpted shape allows it to explore every nerve-packed corner of your vulva. The Touch is also 100% waterproof, making it the perfect bath-time accessory, and it lasts for up to 2 hours on one full charge… What tongue do you know that can do that?
2. The Womanizer
Ever had a lover who just couldn't seem to get the whole clitoris-sucking thing right? They either gently lapped at it like a butterfly with a flower or attacked it with the enthusiasm of a rogue Hoover… Ouch! Well, the Womanizer has no such problems—and if there is an issue with either too much pressure or not enough, all it takes is the press of a button to get you where you need to go.
This German-engineered clitoral stimulator has taken the sex toy world by storm, and for a good reason; it's unique silicone tip surrounds the clitoris without actually touching it and provides a sucking sensation, comparable to receiving oral sex from a skilled partner. All you have to do is lay back, relax and enjoy the multiple orgasms!
3. The Ora 2 by LELO
While the previous toys use elements of oral sex to woo your lady parts, this high-quality vibe was actually designed with cunnilingus in mind! The Ora 2 by LELO is a sophisticated hand-held sex toy that simulates the sensation of oral sex. A small nub rotates beneath the velvety-soft silicone like the tip of a tongue, tantalizing with swirling strokes and fast flicks. Paired with powerful vibrations, the Ora 2 has a variety of intensity levels and patterns to take you over the edge.
And unlike partners in the past, the Ora's SenseTech technology picks up on your body language—the closer you press it into your body, the more intense the vibrations get!
4. A Water-Based Lubricant
I think we can all agree that, when it comes to oral sex, wetter is ALWAYS better. But while a person's saliva comes in limited supply, there is one product that never lets you down in the hydration department: a high-quality water-based lubricant, like System JO H20.
Whether you're using one of the aforementioned sex toys, your trusty bullet vibrator, or even your hands, a dollop of lube will take your solo experience to the next level, making everything feel smoother and more sensual. While silicone lubricant is known to last alot longer, water-based lube provides a more "wet", saliva-like feel. Plus, it is compatible with any and all sex toys, even your high-quality silicone ones!