Oral Strips & Dirty Martinis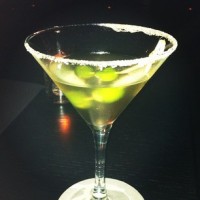 My first day of work I had my pick of extra small and small  tanks and tees— all  very soft and  versatile.  Black with white nondescript writing—"Masque"—a cool, and in fact somewhat hipster slogan.  The tank I chose matched with everything, and reminded me of previously purchased American Apparel items, except with a very supportive  built-in bra.  I wore it promptly.The next day at work I arrived primed to take notes at the TRadioV studios during the recording of Emily and Menace's weekly radio show and video podcast.  Emily promptly noticed the words emblazoned across my chest and called me into the recording room.  Masque, which I discovered makes sexual flavored strips, was the day's sponsor.
Day 2, Task #1: Emily asks me to lick and report on the taste of a "watermelon flavored" Masque Strip: 
My response:  like Orbit watermelon mint chewing gum.
*Note- a milestone, Huntress's first lifetime appearance on air (minute 42.5 or 42:30 of the podcast, promptly sent to the parents)
Emily warned that next time she will ask me what I thought of the taste of semen.
I have given that topic a lot of thought:
Semen tastes like an luke-warm extra-dirty martini.   The luke-warm, especially apparent if you ask for the martini (preference, Belvedere, or Russian Standard if it's around) extra chilled .  No blue cheese stuffed olives involved.  Cheese combined with bodily references would send Menace off on a hey-day.
The second show there were no follow-up questions; just a reaffirmation that I need a lot of practice if I ever leave writing.