Orgasmic Art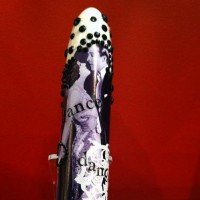 Art is a visualized orgasm. Especially if the piece of art is a painted, feathered, or a mustache'd vibrator. Good Vibrations celebrated its thirty-six year anniversary by inviting the public to turn simple vibrators into electrifying pieces of art. Here are some of the most spectacular pieces from the "Bling my Vibe" project and their vibrator alter-egos we discovered at Good Vibes. Good Vibrations has a vibrator to fit your fancy no matter what you're into, whether it's bananas, Star Wars, Mutant Ninja Turtles, muppets, or dirt.
In Bloom
The Dirty Ecosexual Vibrator on left, Bloom Leaf Vibrator on right.
The Dirty Ecosexual Vibrator
Artists: Annie Sprinkle PhD and Elizabeth Stephens Title: The Dirty Ecosexual Vibrator
Description: What would a Vibrator Arts & Crafts contest be without a submission by ecosexual love artists Annie Sprinkles and Elizebeth Stephens?
Bloom Leaf Vibrator
If you like trees, mother nature, and your vagina, the Bloom Leaf Vibrator will easily grow on you. Part of the Eco-conscious leafvibes line of Leaf Vibrators, the Bloom Vibe has a flexible flower shape that showers you with orgasms.
Going Bananas
Peelin' Good on left, Banarammer on right
Peelin' Good
Artist: Justine Goodman, Senior Editorial Producer, Maxim.com
Description: The perfect way to handle your monkey business.
Banarammer
When I think of penises, I think about bananas.  But penises don't have seven speeds and spot-on stimulation. This Bananarammer does.  We're going completely bananas over this sh*t.
Sexy Beast
"You, Animal" on left, Man Eater on right.
"You, Animal"
Artist: Bailey Swilley, Production Editor, Maxim.com
Description: It means that things can get wild in the bedroom, whether you're in a pair or flying solo.
 Man Eater
This one-eyed alien monster is for munching on your manhood.  If you have a penis, rest it against Man Eater's voracious mouth and let out your animal side.  This space-guy has an easy-grip body; just press on his belly to control three speeds.
Turtle Power 
"The Cowabunghole" on left, Lime Teaser Mimi Smoothie Vibrator on right.
The Cowabunghole
Artist: Nick Leftley, Executive Editor, Maxim.com
Description: Teenage Mutant Ninja Turtle Donatello prepares to smite you with his mighty staff! According to the old theme tune, Donatello does machines – but this is a machine that does you.
The Lime Teaser Mimi Smoothie Vibrator
If Donatello made vibrators, he would engineer the Lime Teaser because it's waterproof and powerful just like him. Lime Teaser will help you get out of your shell and ready to fight crime. Or at least ready to fight your sexual frustration.
The Dark Side
The Darth Vibrator on left, Naughty Boy Anal Toy on right.
The Darth Vibrator
Artist: Laura Leu, Senior Editor, Maxim Magazine
Description: I'd like to say this piece of art symbolizes the "dark side" of the sex industry. But really, I just wanted to découpage a dildo with Darth Vader images and make a bunch of stupid puns. ("Lube, I am in you farther.")
Naughty Boy Anal Toy
Even though uranus is not in a galaxy far far away, the rude boy will reach where the sun don't shine (we like stupid puns too). May the force be with you when you go to the dark side.
The "Bling My Vibe" vibrators transcend their five-inches of silicone to reflect what we find the most inspiring, important, and fun in life. I think vibrators deserve a few sequins, sparkles, and mighty staffs after all the masterful orgasms they've given the world.
The vibrating art will be displayed at the Good Vibrations Polk Street store in San Francisco during the month of March. Admire the art and find a Good Vibrations vibrator that resonates with your passion, and vagina.