Our Week of Sex Expos: Was It Good For You?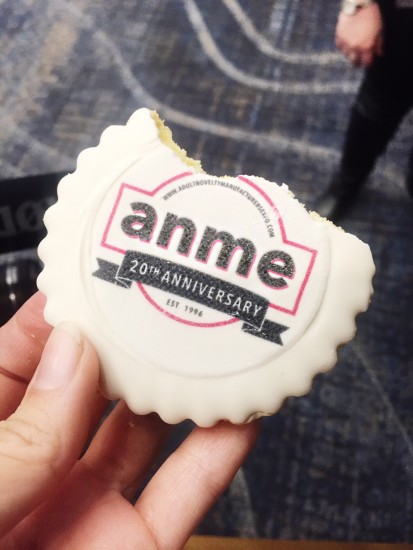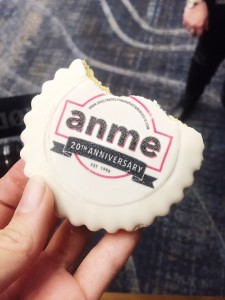 There are a quite a few perks of being a part of the Sex With Emily team. We get to talk about sex whenever we want. Every bad date or awkward interaction with the opposite sex serves as material for a fun new blog. Time spent surfing porn in the office is considered research. And who could forget about all the sex toys?
Yes, it is a pretty great gig. But I have to say, one of the best parts of working at Sex With Emily is that we are constantly learning new things about sex! And a couple times a year, we get to learn A LOT about sex all at once when we hit the various sex expos. 
For us, last week was like ComiCon, SEC and D23 all rolled into one. It started with ANME (the Adult Novelty Manufacturer Expo) on Monday and finished strong with the 2nd annual Sexual Health Expo over the weekend. We got to see the latest and greatest in sex toy technology, meet some of our sexpert idols and exchange scintillating conversation with hundreds of like-minded sex-positive individuals. It was truly a sex geek's dream come true!
So now that we've seen all there is to see in the world of sex toys, sexual health and wellness, it's time we move on to the second best part of our job: Sharing our experiences and newfound knowledge with you!
From the workshops we attended to the products that piqued our interest, here are the Sex With Emily staff's top highlights from our week of sex expos:
INTERN JAMIE: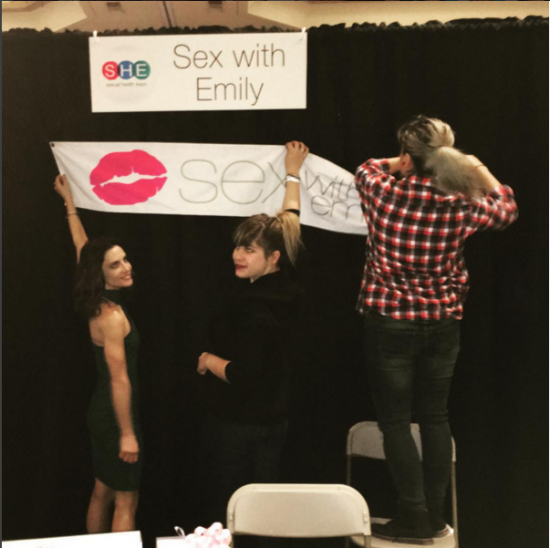 Unlike the rest of the team, this year's Sexual Health Expo was the first Expo I've ever been a part of.  It was filled with many presentations, stimulating conversation, great information and of course, goodie bags full of free stuff. It being my first time at an event like this, I had no idea what to expect, but as always at SWE, I was consumed with curiosity. Immediately upon entering the Universal Hilton Ballroom, I was blown away by the amount of booths and how different they all were. From sex toys to sexual healing to sex advice, almost all areas of sex and sexual health were covered. As the attendees began to filter in, I was truly inspired by the sight of such a diverse group of people wanting to learn more about sexual health. There was no distinct demographic or one single audience that was being tailored to; individuals from a wide range of age, background, experiences, occupations, and sexuality joining each other in their quest for knowledge in sexual health.
Sex experts and therapists gave enthralling presentations about ways to physically and mentally better your sex life. From finding ways to access your true desires with Dr. Tamara Griffin to finding your kink through finding yourself with Mollena Williams, there was someone there to speak to all types of sexual interest. Sex With Emily even did a live podcast from the event! Overall, I had an amazing experience. It was great to see listeners coming by to show their support and meet Emily, and even better to meet those who haven't listened yet. Everyone that took part in SHE, whether they were in attendance or working the expo, left with a new piece of knowledge that will help more than just their sex lives, but themselves as a person.   
LAURIE:
I am no stranger to sex toys, and masturbation is pretty much my best friend. Since my time at Sex With Emily began, sex products have become a bigger part of my life than ever before. It's not every day that I come across a toy which excites me, surprises me, and presents me with something I've never seen before. When I was strolling through this year's Adult Novelty Manufacturer's Expo I stumbled across the booth of one of my favorite new product lines, FunToys.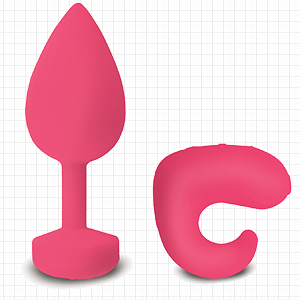 FunToys is a fairly new London-based sex toy company and they happen to have a few products in their toy box that knocked my socks right off. The first little wonder that caught my eye is their vibrating G-Plug. With a diameter of 3 cm, it is the smallest rechargeable butt plug on the market and let me tell you, it is absolutely adorable. For anyone like me that is just beginning to venture into the wild world of backdoor play, it's the least intimidating and most inviting anal insertable I've ever seen. It's rechargeable, easy to use and is 100% waterproof. But the most exciting and unique aspect of this toy is that you can control it remotely when you connect it to the G-ring via bluetooth. Now let me tell you about the G-Ring. It is a 2-in-1 remote control and finger vibe. When used together with the G-Plug, you can have the control of your butt plug's vibrations literally at your fingertips. So whatever you're G-ring is doing on the outside is exactly what's going on inside your (or your partner's) back door. Mind blown.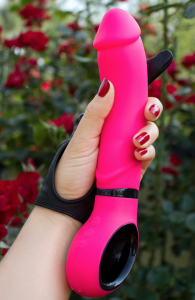 Worry not, my fascination with FunToys wasn't just butt plug focused. They also blew me away with their G-Jack. At first glance, it looks like any other vibrating dildo with a cool circular handle. But be advised, you won't get the full effect of this thing's glory until you hold it in your hand. Their G-Jack is made of something called BioSkin. It's a material that I haven't seen equalled in any other toy I've handled. It replicates the feel of a real human body and is malleable and lifelike to the touch. The G-Jack is really unlike anything I've ever felt before. I can definitely attest to the fact that FunToys lives up to their slogan: "Reinventing the Vibrator."
MADISON: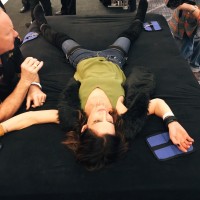 Within my first 20 minutes at the Adult Novelty Manufacturers' Expo (also known as ANME), I watched Emily get cuffed and bound to a gigantic bed in the middle of the Sportsheets' booth. A small crowd gathered around as the founder and CEO of Sportsheets, Tom Stewart, placed my boss's wrists and ankles into ultra soft, yet secure, neoprene cuffs. These cuffs were attached to square velcro pads called Anchor Pads that, when placed face down anywhere on the specially designed Bondage Bedsheet, would keep her totally tethered. This was great for bondage play, Tom explained, because it allowed the tied up partner to be comfortably restrained without the use of a headboard or bed posts. You could even take it on the road, throwing the fitted sheet over a hotel or guest bed, having your fun, then taking all your gear with you when you go… I liked the sound of that.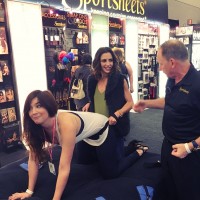 And that wasn't the only trick Tom had up his sleeve! Soon after, I found myself in a bit of a compromising position as well. The kind-eyed ex-Marine Tom fit me into the Super Sex Sling, which essentially a crescent-shaped (the kind you see at airports) connected to two padded suspension straps. While in the sling, my legs remained raised in the perfect position for penetration without causing strain to my neck, back or lower body — In a different setting, this position would have been perfect for some really hot sex! Tom also strapped me into the Vibrating Doggie Style Strap, a harness that wraps around a woman's pelvis during doggystyle to help make the position less straining and also allow for deeper, more pleasurable penetration.
While a lot of bondage gear tends to have a 50 Shades of Gray red room vibe, Sportsheets' gear is clever and elegant, without losing one single bit of utility. Each product we saw was versatile, easy to use, and designed with the user's pleasure in mind. And many of the various slings and harnesses are also designed with the disabled community in mind, helping those without full mobility to enjoy long-lasting, complication-free sex! I saw a lot of products last week, but Sportsheets' just did it better, and I can't wait to add a few of their products to my ever-expanding goodie drawer!