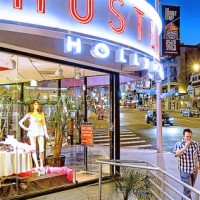 Coming up with fun and interesting date night ideas is tough work! By the 3rd or 4th month of seeing someone, you've pretty much exhausted your regular go-to activities and may have even fallen into a dating routine. You've got your favorite restaurants, your favorite karaoke bar, and if all else fails, there's always Netflix and pizza delivery to fill in the evenings together.
What if I told you that I had a solution, something SO CRAZY that it just might work? This idea I'm referring to is definitely more creative than your average date activity. It's inexpensive (depending on how much you take away from it) and entertaining. And I can tell you from experience, it'll definitely give you and your significant other something to talk about.
Have you heard of Hustler Hollywood? (oh and they're not just in Hollywood, they have locations around the country.)  It is an upscale, modern erotic boutique that offers a large selection of high-quality toys, lingerie and other sexy novelties. In layman's terms, it's a sex shop. So why the hell would you want to have date there?
Allow me to explain.
Read More

»
Posted by
Madison
| 0

comments