"His penis is too big!"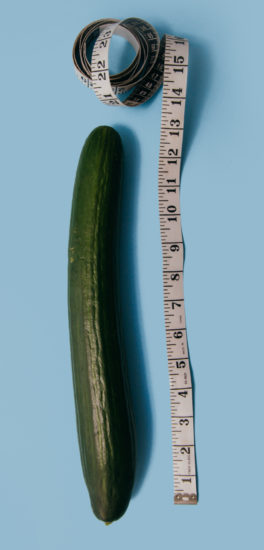 Dear Emily,
My boyfriend's penis is too big. I'm 22 and I recently started seeing a guy who has a huge beautiful penis like I've never experienced before. This should never be a problem, right? Wrong…
I'm barely 5'2″ and a petite woman and sex with him is so painful.
I've managed to get through it multiple times but afterward, I am so sore.
Does the pain ever go away? If not, can you suggest anything to make it less painful?
Thanks,
Too Much of a Good Thing.
Dear TMGT,
You don't want to just get through it, you want to enjoy it. Sex with a huge penis can be incredibly painful. Luckily there are a couple of things you can do to make it feel better.
If you haven't already, you need to communicate to him that it hurts. Many women are reluctant to tell their partner something is wrong because they think they should be able to deal with it on their own. They want their partners to think they're enjoying themselves, even if it is painful. But if you don't tell him exactly what's going on, your sexual experience won't improve. Communicate with him before, during and after sex.
Spend a long time on foreplay before having sex. Most women not only love foreplay but also need it to get ready for sex. Once you're feeling aroused and ready to brave his "huge beautiful penis", lube up with a good water-based lube like Pjur Nude to make sex more comfortable.
When it comes down to having sex, pick positions that incorporate shallow thrusting. Shallow thrusting is great for you because he won't hit your cervix with his giant penis, and it will hopefully feel considerably less painful. Plus, the outer third of a woman's vagina is the most sensitive. The G-spot is just 2 inches inside the vagina. Many men find that they also enjoy shallow thrusting since it stimulates the head of the penis–the most sensitive part.
The woman on-top position is great for shallow thrusting because it lets you control how deep he penetrates. Move in circular motions as you go up and down on his penis. Only go as deep as you want. Don't push yourself too hard to pleasure him.
If you want to go for missionary position, forfeit any positions with pillows under your butt or legs over his shoulders. The more your pelvis tilts, the deeper he penetrates. Also, go for positions where you can keep your legs close together. Not only will this prevent him from penetrating too deeply, but you can also explore some amazing positions that stimulate the clitoris like CAT position.
To review:
1) Communication is key! Let him know what feels good and what just hurts.
2) Foreplay is your friend: It feels good and it will prepare you to brave the beast.
3) Finally, incorporate positions that involve shallow thrusting rather than deep penetration.
Good luck!
xxx,
Emily