Political Perverts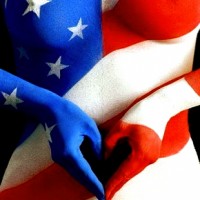 Politics aren't exactly sexy. They're messy, full of secrets, and can get you insanely heated in a matter of seconds. Okay, so politics do seem to possess certain attributes that many of us can relate to in the bedroom and in our intimate lives. Many male politicians make it their sworn duties to preserve the 'moral integrity' of our country, but commonly find themselves pelvis-deep in sticky and often time salacious sex scandals.

From carnal Congressmen to pornographic presidents, America has seen some of the most deliciously scandalous political defamations. With the up-cumming presidential election right around the corner, why don't we take a trip down memory lane and reminisce some of the most erotic and sexually bizarre political scandals to penetrate the White House?
1. Cyber Seduction – Mark Foley (2006)
---
We're all guilty of sending naughty sext messages to the people that turn us on the most. When former Republican Congressman Mark Foley allegedly sent flirtatious and rather graphic texts/e-mails/instant messages to several of his male pages, the then 17-year-old interns described the electronic love letters as "gross" and "disturbing." Now that Foley's out of the job, maybe he'll have better luck at hitting on pages his own age.
2. The Not-Quite Mile High Club – Larry Craig (2007)
---
For many gay and bi-curious men, public restroom glory holes are perfect vessels for anonymous male-on-male sexploration. Ex-Idaho senator Larry Craig, however, made the unfortunate decision to 'unzip and play' while waiting for his flight in the Minneapolis airport. Maybe he'll learn to be more discrete the next time he attempts to choreograph a urinal peep show.
3. Political Prostitutes – Eliot Spitzer (2008)
---
It's not uncommon for bachelor parties and horny young men to enlist the help of professional  'sexperts' for a good time. In the case of New York Governor Eliot Spitzer patronizing an underground prostitution ring during his term, the secretly sexual governor spent well over $15,000 on "personal" services and activities from female hustlers. Who knew a quickie could be so expensive?
4. Weinergate – Anthony Weiner (2011)
---
Working in an office setting surrounded by business attire and affairs can make a person pre-tty horny! Anthony Weiner is no stranger to having boners in the bureau, as he accidentally uploaded a picture of his "weiner" to his Twitter account. When you're hot, bothered, and just wanting to electronically express your erect manhood to someone of interest, first make sure it's in a text and not on a major social media site.
5. Oral Oval Office – Bill Clinton (1998)
---
Oh boy, who knew a female White House intern, a cigar, and an ambiguous white stain could reach international headlines? Bill Clinton certainly didn't. When the previous Democratic U.S. President instigated "oral relations" in the oval office, news stations erupted in a field day over the now infamous and iconic federal sex scandal. I'm not too sure what Monica Lewinsky is up to these days, but I sure hope she finally sent that blue dress to the dry cleaners.

As the presidential debates continue and election day inches closer, politicians on both sides of the political spectrum are doing their very best to behave appropriately. It's only a matter of time before the next political partisan flashes his privates to the world or seduces yet another "willing" intern in the Capital building. America truly is the land of the free — as long as you keep your secret sex-capades out of the news.