Poppers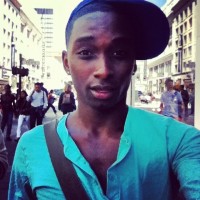 By:  MarMar Speaks
So I am a young gay male that just came back from New York City.  It was a spontaneous move from Oakland, California and I went with no expectations of hooking up or meeting any guys in the Big Apple. But I did meet a guy on Adam4Adam, who lives in Brooklyn.
After some small chat online, we exchanged numbers and decided to meet up. I didn't know what I was in for, but he was cute so I was up for anything. Mr. Anonymous and I met up and he even paid for my cab fare, which was sweet. We talked and kicked it for a minute before we went back to his man cave.
We started making out and fore-playing, then intercourse snuck up on me. (well 'snuck up' might not be the right term since all my clothes were on the floor). He had condoms and lube, which is a must for me. But when he started to prep my anus it hurt too much. My ass doesn't get plunged like some bottoms.
Mr. Anonymous suggested this blue small bottle for me to sniff. Everything came to a complete pause because I mean, I need to know what I am sniffing. Turns out the small bottle is an actual sex formula called Blue Boy Poppers. Mr. Anonymous told me that it helps my anus relax and get the hard part over with. So I reluctantly sniffed it and went straight to paradise. The sexual feeling it gave me was amazing. Every inch felt so good, and I just kept going and going.
Poppers reminds me of this other stuff called Hot Rawks, which helps boost my stamina. Poppers had a similar effect by helping me relax and allowing me to try more sex positions. I know most people just sniff poppers before having anal, but I just kept sniffing while having sex.