Porn From A Different View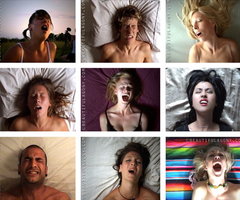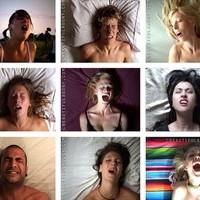 If I have said once, I have said it a million times: We are a society obsessed with orgasms. And yet, I can't remember the last porno I watched that actually captured the magic and ecstasy of an orgasm, without a quick cut to the ever-popular, close-up "money shot". In truth, the orgasm is the main event of any sexual act; it's what we're there for in the first place! So why isn't there porn out there that does the Big O justice? Well, thanks to a group of open-minded Australians, that experience can be captured and viewed in the same fashion as any other XXX online feature.
Take a trip to Beautiful Agony, an Australian-based erotic website that brings attention back to the Big O in a big way. The site posts daily videos of real people masturbating and climaxing on camera- the trick is, those being filmed are only captured from the shoulders up, making their O-faces the main attraction. It started as an experimental project, meant to test the erotic power of genuine and unscripted orgasms, and has since grown into a pornographic sensation, featured in academic studies, magazines and even has a display in the Museum of Sex.
Founded in 2004 by Richard Lawrence and Lauren Olney, Beautiful Agony (also called "Facettes de la Petite Mort".. Ooh la la!) represents a new, more honest form of pornography. The "Agony" portion of the project's name describes the near-painful tension that one feels right climax, which is then followed by a blissful zen-like state. The "Beauty" part comes from watching all types of people lose control and shed their inhibitions in the most intimate way possible.
The project initially came to be as a result of Olney and Lawrence's frustrations with quality of mainstream pornography. The two believe that the displays of sex usually found in popular porn of today are extremely graphic, but do not actually depict genuine pleasure of the performers. Olney and Lawrence wanted to create something that captured real sexual pleasure, without being overly explicit. They started this experiment by asking close, open-minded friends to film themselves masturbating, in the hopes of compiling the clips into a film. What came back was an inspired and revolutionary look at the sexual experience, and thus began their attempt to start a shift in the porn industry.
Part of what makes Beautiful Agony so remarkable is that it plays to our society's fetish for surveillance. By capturing real people masturbating on camera, and act that is considered to be extremely private, people are able to live out their voyeurism fantasies from the safety of their desk chair.
The site also does something extremely unique and entirely new to porn- It humanizes its sexual subjects. A year into the formation of the Beautiful Agony project, its creators had the idea to take the intimacy of the videos a step further; in addition to their artful orgasms, contributors were also asked to share their personal sex stories with the camera. By telling stories of their early sexual experiences, confessions, fetishes and fantasies, viewers are made even more aware that they are watching real people, not actors.
While a bulk of Beautiful Agony's submissions and subscribers still come from Australia, the site also has global audiences. It also currently has more than 3,000 submissions, making for a wide variety of orgasmic experiences to choose from. By subscribing to the website, you are given access to people not only coming on camera, but also confessing their deepest sexual secrets- $15 gets you a month, while $100 gets you an entire year of O-Faces!
Can't get enough SexWithEmily?
Subscribe on iTunes and never miss your bi-weekly Sex With Emily podcast…