Pride Month: Why & How to Celebrate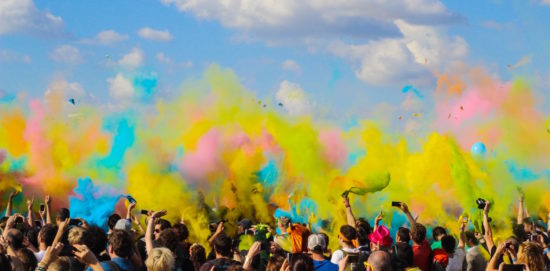 Among sand, sun and another royal wedding behind us, with June also comes LGBTQ Pride Month—an annual extravaganza commemorating the queer community and its ongoing fight for equality.
It's a time for people of all ages, genders, orientations, and identities to band together and relish in radical acceptance of who they unapologetically are.
And despite how it may sometimes seem, it's about so much more than just parades, parties, and Cher dance version remixes.
Like so many things, Pride Month has different meanings to different people. As a whole, it serves as a 30-day PSA specifically dedicated to honoring the progress of LGBTQ warriors past, while noting everything that's still left to overcome in the future.
It's about showing you're proud of who you are, aren't afraid to speak up for what you believe in, and that above all, you're anything but alone in this world.
Back to the streets where it all began
Now when it comes to Pride Month, no doubt the walks and parades are unlike any other. They're filled with enjoyment as well as emotion, all wrapped into a tradition that dates back to June of 1969.
One New York City night, police raided a Greenwich Village bar named the Stonewall Inn on the fact it was operating without a liquor license. The catch at the time? No bar was granted a liquor license if they served patrons who were (or even "suspected" to be) gay, transgender, or queer.
As they paraded countless pub-goers outside to be arrested, riots broke out against the injustice seen before them. Thousands of people gathered as demonstrations ensued outside the bar that night, and for the next six days.
An event known today as The Stonewall Riots—it was a momentous occasion that invigorated LGBTQ groups everywhere to no longer live in silence of the public eye.
The first NYC Pride Parade (then known as the Christopher Street Liberation Day March) took place exactly one year later on June 28, 1970. It was an idea of the event's main organizer Brenda Howard to turn the single-day celebration into a week-long festival of eminence—another tradition still carried out today.  
Pride Today
While countless pride events take place each year, here are some of the world's most notorious celebrations. 
Atlanta Pride:
By far the largest festival in the Southeast, and one of the oldest in the country.
LA Pride:
Produced by the western chapter of the same activism group behind the original NYC pride march.
Capital Pride:
DC's own celebration sprinkled with political flair in honor of LGBTQ political activists.
The São Paulo Gay Pride Parade:
Known as one of the largest pride events in the world with millions of expected attendees.
Tel Aviv Pride:
When the infamous seaside escape comes to its ultimate life each year.
San Francisco Pride:
Which earned the record for the largest turnout for a single American pride celebration in 2014 with upwards of 1.7 million people.
NYC Pride:
Back where it all began.
But in the big scheme of things…
You don't have to be a direct member of the community to still stand behind it.
An ally can be someone who's supportive and accepting of LGBTQ people they know, or who personally advocates for equal rights and treatment of the community within their larger community. They can be people who stand up against ignorance toward a gal who cuts her hair short, or don't bat an eye at a guy who likes to wear makeup.
They are powerfully supportive and effective voices who can help others understand the importance of carrying out fairness, acceptance, and respect in everyday life.
Through actions both big and small, ways to be an LGBTQ ally can include speaking up when you see or hear discrimination, not giving into LGBTQ stereotypes, and being a reliable, open-minded listener. An ally should not put people on the spot to talk about things before they're necessarily ready, not use terms incorrectly, and support LGBTQ art/artists. They should also think outside the marriage equality box when it comes to shedding light on social and political LGBTQ issues. This includes things such as the disproportionate rates of youth homelessness and sexual violence that continue to plague the community.
###
So as we enter this year's celebration, it's important to realize the message of pride is only growing louder, and prouder. Attitudes are changing, and it's amazing to think of the progress made. However, needless to say, there are still many challenges ahead.
At the end of the day, love is love. And honestly, our world needs way more of it.
Ultimately, we're all just human, making the same existential orbit on this big blue ball in the sky. So just remember to always be you. Be proud. During Pride Month and beyond.
Alex Anderson is an LA-based lifestyle designer proactively raging against the cultural grain. By day she works in television production, and by night enjoys writing, sewing and seeking guidance from the stars. She also finally has an all black kitty named "Cher." You can follow her website (www.alexjanderson.com) and on Instagram (@AJAndMore)!