Put on your O face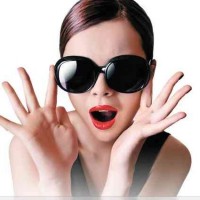 To achieve that perfect just got out of bed look, follow these easy steps for doing your makeup. Whether it's mastering those bedroom eyes or perfecting a rosy glow to the cheeks, it's time to put on your O face.
Bedroom Eyes
Start off with long, slow strokes with the Mascara Vibe. Then twirl your mascara wand in a circular motion to really perk up those luscious lashes. For a dramatic lash-curling finish, spin the wand until you're fully satisfied. The fluttering mascara will give you a dreamy, eye-popping look.
Blushing Bride
The Makeup Brush Vibe has long, limber bristles for the perfect fall flush. Apply coverage on those sensitive areas that require the most attention. To become a blushing bride (in a tongue-in-cheek sort of way), sweep the brush back and forth until you have a rosy glow.
Red Revival
With the Lipstick Vibe you should start off light and then press harder for a more dramatic effect. You can change the intensity of the Lipstick Vibe to low, medium, or high depending on what you want. Always carry one in your purse for well-needed touch-ups throughout the day.
No Lipstick Vibe would be complete without some gloss. Dab your finger in the O Balm Gloss orgasm-enhancing creme and rub it in to complete your O face.
Who said beauty is pain? Doing your makeup doesn't have to be a grueling task when your mascara flutters and your lipstick vibrates. At Sex with Emily we firmly believe that beauty comes from the inside out. If we feel good, we look good. Or at least if we feel good, who cares if our lipstick is smeared and our eye makeup is streaming down our face?