Raving About the Rave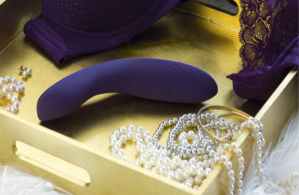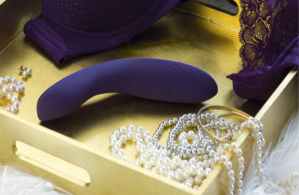 We all have that one pair of jeans, top, or outfit that fits us just so incredibly perfectly, it hugs your body like it was designed for you. That's the case for what goes on your body, but what about what goes in? Is this something you've ever thought about with a sex toy? I hadn't… until recently. With one simple twist, the Rave by We-Vibe seems like it was made to perfectly align with my g-spot because well… it was. Most of you women out there (and men) will agree that this is no easy feat, but thanks to the Rave's asymmetrical design, my g-spot has been feeling more than fine.
For many women, the g-spot orgasm is one that is difficult to obtain. First of all, proper exploration is definitely required because it can be hard to find. Second, it requires consistent stimulation and one wrong move, no matter how insignificant it may seem, can send you falling back down to the start of your climb towards climax. The most common mistake many people have about the g-spot is searching too deep — it really is only one to two inches in on the front wall of the vagina. That's why penis size usually isn't the real issue, it's how you move.
The Rave is such an awesome fit because of its power and sleek design. The corner is slightly curved, nestling perfectly against your g-spot. Pushing down on the handle allows you to choose whether you'd like a lot of pressure, or a little. I start off with a small amount of pressure, but apply more as I get closer to orgasm for true intensity. For added stimulation, I'll keep my legs close together while raising my hips, and will do my kegels at the same time.
Once you've found the proper placement, it's time to choose a vibration type and level. There are ten different vibration patterns to choose from with different levels of power. Believe me, this thing can rumble. However, when you're having a crazy self-pleasuring moment, it can be hard to focus on which button you're pushing. This can go wrong in so many ways. Trying to make the vibrations stronger and accidently making them less intense can get frustrating to say the least.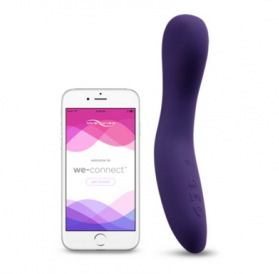 We-Vibe understands your struggle. Although many use the We-Connect app with their partner, it can totally be used alone. I cannot tell you how much easier and comfortable it was to use my Rave when I started using the app. You can actually see what the different patterns look like and with a simple swipe of your finger up or down, the vibration level can be adjusted higher or lower. I don't even have to look at my phone. If none of the vibration patterns seem to strike your fancy, you can create your own. You can play around with patterns and power levels, creating a symphony of titillating sensations. It's almost like painting your perfect orgasm. No one knows you better than you! We-Connect will save your patterns under whatever sexy names your little heart desires. Who knows what you'll come up with.
This is a great g-spot toy because of how customizable everything is. After playing around with it a bit, I've discovered it works great for clitoral orgasms in the way you would use a wand. WOW. I personally like to warm up a bit before I begin my g-spot journey, but don't always like simultaneous stimulation. I equate it to giving my vagina a pep talk before the big game. Being able to use the same toy for both makes masturbating that much better. Along with being USB rechargeable, the Rave is also splash-proof. Completely safe to use in the shower, but not for the bathtub. Splash-proof DOES NOT mean waterproof. Because We-Vibe covers all the bases, they also include a sample size of their lube or sex toy cleaner to try out! Talk about a company who cares. If you've been searching for your sex toy soulmate to no avail, it might be time to see what everyone is Raving about.