Rocking Around the Clitoris: A Gift Guide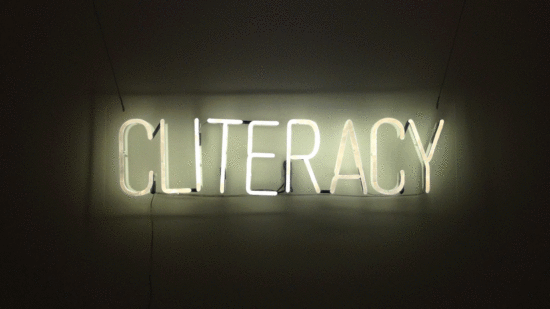 The clitoris is the pleasure center to every vulva owner's station. Did you know that 80% of vulvas need the clitoris to orgasm? That means only 20% of women can orgasm from penetration alone. Even then, it's hypothesized that the g-spot (an internal walnut textured vaginal pleasure spot) is connected to the clitoris. So statistically speaking, the clitoris is where it's at for a lot of women.
THE CLIT ZONES
Let's get into it! The clitoris is comprised of the glans (the external part you can see), and is responsible for detection of sensation and stimulation. Then, there's the clitoral body (external), paired crura and vestibular bulbs (both internal). The clitoris in its entirety can be 5-9 centimeters (2 – 3.5 inches) long. Now that's a lot of clit to work with!
If you're an ardent listener of the show, it would be impossible for you to miss that the clitoris has legs. It does! It has legs! But where are they? The legs – known as the clitoral crura – are part of the clitoral anatomy that split from the bottom of the glans (the corpus cavernosum) and hug the entrance to the vagina. The cool thing about them is that they engorge with blood in conjunction to sexual arousal as does all of the erectile tissue of the clitoris, like the vestibular bulbs. Who says women can't get erections?
Remember, no orgasm is superior to the other. No matter what the method behind it, just the sheer bliss of that serotonin, dopamine, & oxytocin release should be enough to send your heart reeling.
So, in the name of love for the clitoris, here are a few things that will definitely treat it right.
PIVOT TO YOUR LIKING
The We-Vibe Pivot is a multi-functioning vibe. Yes, it's a cock ring, but it's also one heck of a clitoral vibe. Not to mention, it with a bluetooth We-Connect app capable function. The We-Connect App enables vibrations to be controlled by you and your lover anywhere in the world. So, whether you're single or in a relationship, this little guy can be there for you through any phase of life.
TOUCH ME TEASE ME
The We-Vibe Touch is a beautiful addition to add to your masturbation and sexual escapades, as it puts the "oooh" back in your orgasm. This vibe has eight vibration patterns and is 100% waterproof – you know, for those steamy shower moments. The surface area of the Touch gets to all those vulvic pleasure centers. It even has a pin point so it can hit the clitoris exactly. You can't go wrong with this kind of touch. Plus, it's a great way to venture into the world of vibrators if you haven't done that yet.
WOMANIZER, THE CLIT WHISPER
Novice or expert alike must try what we call "the clit whisperer" – the Womanizer. Even if you've never purchased a vibe, you'll be amazed what this toy can do. The Womanizer's patented Pleasure Air Technology™ provides the perfect ratio of suction and vibration. Now the latest version – the premium – features smart silent technology which turns off as soon as you remove it from your body. So, no more worrying about the sound if you need to put it down from a sudden interruption.
The Womanizer is the perfect tool to discover which parts of the clitoris feels best for you and even better, people report that it comes close to the feeling of oral sex. Just let that sink in for a moment.
MIMICKING MOANS
The Mimic by Clandestine is a powerful external vibrator that covers all parts of the vulva simultaneously. Yes, I said simultaneously. Its elegant, curvy manta-ray like shape targets the clitoris and labia, as well as being ergonomically designed to fit comfortably in the palm of your hand. And did I mention, stimulates the clit and vulva simultaneously? Sex hack: put the Mimic on a pillow and place it to fit your vulva, and grind on it. You'll thank me later.
MAGICALLY ORGASMIC
The Vibratex Magic Wand is the classic of clitoral vibes. In fact, it's safe to say it's the classic of ALL vibrators. You might know the Magic Wand by its original name the Hitachi which was originally designed as a back massager 50 years ago, but let's be real, that's more of a secondary function. The modern Magic Wand Rechargeable is cordless, has four power intensities, a smooth silicone head, and a quieter sound. Your neighbors will probably thank you for that, but honestly… are we supposed to care? Okay, okay, maybe we should a little.
LIT CLIT
System JO's clit stimulant will be sure to rock your socks and set your clitoris on fire – in a good way. Do you crave warmer temperatures or chilly vibes? System JO has you covered with four stimulating potions to spice up your sex game from Arctic Chills to Atomic & Spicy. All four variations are silicone based and are made to enhance sensation and sensitivity during foreplay and solo play. So coupling this with a vibrator makes for some crazy sensation.
BONUS CROWD FAVORITES
The Aria Mi is a powerful pocket sized bullet vibe who's heart-shaped finger cradle is designed to fit comfortably between your fingers for maximum control. Waterproof and accompanied by a silicone sleeve with five patterns and vibrations it's fit for a queen. The Aria Mi will fit in your bag, making it great for a date night.
If a more discreet vibe is your style, the Vesper Necklace by Crave is a fan favorite. Even without the vibrating function, it's a beautiful necklace You can wear it layered with other necklaces you already have and no one would be the wiser! The Vesper comes in silver, gold and rose gold, just take a look, you'll be mesmerized.
***
No matter what anatomy you're packing, keep exploring your body and what feels good to you. It'll make you more confident about how your body responds to touch and what brings you pleasure. Not to mention that confidence is bound to shine through in other areas of your life. A vibe to shake up your sensation play, vary intensity or even discover how to orgasm never hurt anybody.