Rosh (O!) 'Shanah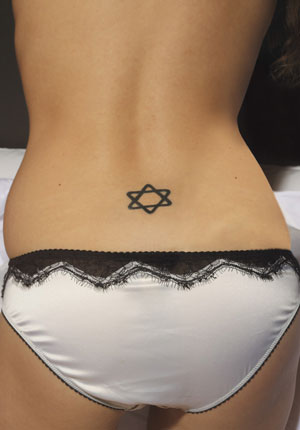 L'shanah Tovah!  Or,  "Happy New Year" in Hebrew.  Monday marks the first day  of Rosh Hashanah, the first of two "high holidays" in  Judaism, which fall on day 1 and 2 in the Hebrew Calendar month Tishrei.  The second holiday, Yom Kippur, falls eight days after Rosh Hashanah.   Since Yom Kippur is a Day of Atonement,  in which we abstain from foods and sex,  we can even appreciate Rosh Hashanah (or, as we say "O" Shanah, since the "H" is silent) even more for getting freaky .  Even if you are not a Member of the Tribe we encourage celebration.
Below some sexy Rosh O' Shanah tips we don't think were taught in Hebrew school…
 Give a good blow–   Is it just too perfect that Rosh O' Shanah literally means "Head of the Year" in Hebrew?  We encourage all to provide that. The essential commandment of the holiday, in fact, is to hear the sounding of the shofar, a ram's horn,  which is blown like a trumpet by the Rabbi, a Jewish scholar, at Rosh Hashanah religious services.   So after you listen to the Rabbi blow; apply the skills.
Aphrodisiac it!–  On Rosh Hashanah Jews eat  a "new fruit," meaning a fruit that recently came into season.   Pomegrates are traditionally chosen; which are also an aphrodisiac.  The fruit was regaled as a culinary symbol of Aphrodite by the ancient Greeks.  Additionally antioxidants in pomegranates  protect the lining of blood vessels allowing more blood to course them which provides more genital sensitivity as an upshot.  Eat away. (And, while applying the tip use some strips).
Honey usage (appreciate the multiple) –  One of the most popular practices on Rosh Hashanah is to dip apples and Challah (a braided, soft bread) into honey to symbolize a sweet New Year.   Jews partake in the (skinny?) dipping get-togethers  with family and friends. At Sex With Emily,  we suggest a mix up:   rather than bringing a typical bee-produced honey to a dipping party bring something else in similar packaging.  Honey Bear Nature Lovin' Lubricant (see photo below) is a perfect choice.  Grandmother or  "Bubby"  will be so busy preparing  for festivities that she won't look at the label.  She'll give a you hug and "a sheynem dank" (thank you, in Yiddish).  Just grab it before she uses it on food or serves the guest.  Worst case, all Jews love a great  shtick.