Sans Underwear, High Fashion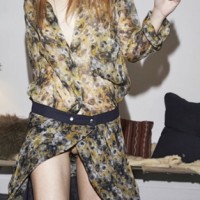 My girlfriend recently texted me a crotch shot from Elizabeth Charles, a high end boutique and e-commerce site.   Located in New York, San Francisco,  and now Newport Beach, Elizabeth Charles carries an array of unique brands attractive to "discerning" clientele such as Charlize Theron and models Helena Christenson,  Karoline Kurkova and Gemma Ward.  Train-wreck and crotch-shot extraordinaire Lindsey Lohan is also a fan.  Looks like Lohan's fashion sense has rubbed off on one of Elizabeth Charles' choice designer lines.
A runway model wearing pieces from French designer Roseanna's Fall 2012 collection, carried by Elizabeth Charles, seems to be wearing no panties.   She is modeling the "machine skirt"  skirt —- is she attempting to promote "sex machine" in the skirt as well? The item is sold out on Roseanna's website and only one size remains on  Elizabeth Charles online.  Looks like sex sells and that the French remain provocative.