Wear your hard-on your sleeve (Part 2)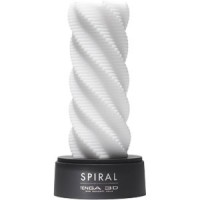 Sleek, sexy, and seductive are not commonly used words to describe sex toys. Normally we think of bulky, loud, and intimidating products that could potentially alter our genitals' physical appearance if used incorrectly. If  gears and motors are visible, RUN! Tenga, on the other hand, is an exceptional male sex toy company based in Japan that knows how to get your blood pumping without anyone needing to know. Because Japanese laws insist on the production of "adult toys" that don't actually look like "adult toys," Tenga has created some of the most physically appealing products on the market. And the best part? They look completely innocent.

Don't let the Tenga products' visible innocence fool you! They pack a mean punch and can seriously spice up your personal sex life in one try (I know from experience). From one-term use to lifelong toys,Tenga offers infinite possibilities to selecting the perfect product for your bedroom.
The Tenga 3D Sculpted Ecstasy may be their best product yet. Winner of the prestigious Red Dot Design Award in 2012, the Tenga 3D is an architect's wet dream (literally). Users may even want to mount the toy on a shelf as a piece of art – it looks that good. Appearing in five different styles ranging between Spiral, Polygon, and Module, the Tenga 3D can be tailored to your personal liking.
I was given the intensely laborious task of trying out the "Spiral" model (I hope my sarcasm is obvious). From beginning to end, the 3D "Spiral" sleeve created a highly stimulating masturbation session that ended in a quick and easy clean up. The sleeve itself can be folded inside out once finished for hygienic purposes and comes packaged atop a handy mount that can be placed next to your favorite decorative pieces. The textures of the "Spiral" create an intensely warm and satisfying simulation of actual sex while in use; the sleeve works so well that you forget you're even using a sex toy.
I was immensely pleased with this product and I'm pretty sure my genitals were too. Every Tenga product that I've tried so far has been extremely satisfying, but this one is pure ecstasy. They weren't kidding when they put that in the title. I'm still curious to try out the other models, but for now the "Spiral" looks great perched atop my nightstand table – decoration and practicality all in one! Get yours at goodvibes.com tonight.