Sex (Mis)Education: What We Wish We'd Learned in High School Sex Ed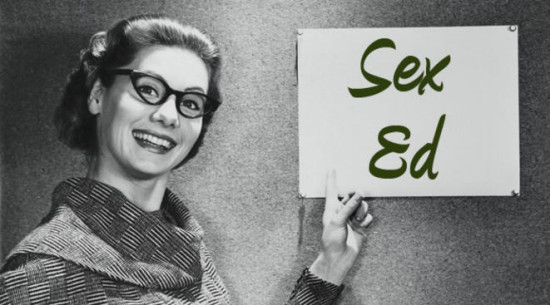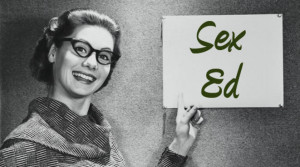 The month of June signifies a slew of special occasions. It marks the start of swimsuit season, reminds us all to appreciate our fathers, and signifies the beginning of summer vacation. But just because June brings about the end of the school year doesn't mean our education has to stop with it. In fact, the month of June is actually Adult Sex Ed Month (thanks to sex educator and writer Bobbie Morgan)! You might be thinking Adult Sex Ed? We should all have that stuff figured out by the time we reach adulthood right? Well, unfortunately, this just isn't the case.
Although in this country, 70% of females and 62% of males have engaged in sexual intercourse by the age of 18, only 24 of the country's 50 states require that sex education be taught in public schools. What's more, only 13 of those require that the education be medically accurate…Something there just doesn't add up. Even though we've made enormous strides in the past few years, like the recent removal of funding for abstinence-only sex education—Way to go, Obama!—that will help future generations, many of us today are left playing catch up, trying to fill in the blanks from our own shoddy sex-ed experiences. That's why continuing our sex education as adults is such important work. There's so much left to learn about sex and we owe it to ourselves to become erotically enlightened!
So in favor of furthering our sexual schooling, I asked my team what exactly they wish they had learned in sex ed class.
Laurie: Consent
When I was learning Sex Ed in seventh grade, I wasn't interested in educating myself about the intricate details of child conception and contraception. I wasn't concerned about ovulation or fertilization. And I certainly wasn't looking forward to watching footage of a live human birth to deter me from underage intercourse. I just wanted to flirt with boys, kiss them, and toe the line between puppy love and pre-teen romantic relations. My friends and I were just beginning to experiment with sexual behavior and the boys in our grade were all too happy about it. Most of us ventured into the realm of sexual activity through a game we called "The Nervous Game" in which we would touch each other more and more until one of us called out "Nervous!" signifying we weren't comfortable going any further. It was like a game of second base chicken. We all felt pressure to go further than our partners, and as a result, many of us (including myself) engaged in activities we just weren't ready to. Had I learned anything about consent in my sex-ed class, this could have been avoided.
I wish that my teacher would have told me exactly what consent means, how to give it, how to ask for it, and how to avoid being manipulated into it.  At tender young ages, we are so susceptible to suggestion and peer pressure. Whether or not we wanted to say no…Whether or not we did say no at first didn't matter as much as what our partners or friends thought of us. Keeping up with the Joneses was never so profound as in prepuberty. I wish I would have known then how to say no and be comfortable and confident in my decision to.
Jamie: Aftercare
Sex Education in school was taught to me in tiers. Tier one was in the fourth grade when we were told about puberty, our changing bodies, and our periods. Tier 2 was in the seventh grade, when we were mostly told about reproduction and anatomical differences. Then tier 3 came during ninth grade health class, which was largely about what happens when you get STDs, contraception, and the importance of abstinence. There was something that never seemed to make it into the curriculum that seemed pretty important… the sex part. Mainly, what to do once sex is over. Teachers are so busy trying to keep their hormonal students from being sexually active, they forget to enlighten them on the post-sex period of aftercare.
The first time I had sex, I had no idea what to expect. I had nothing to prepare me for the actual act besides unreliable advice from my friends. Even my friends' advice never mentioned what happens after the sex is over. I had no clue what how messy it could be, how to clean up afterwards, or how to stay comfortable. I wish that my teachers had taught me about how women produce fluids during sex, and that it isn't just men who ejaculate. I wish they told me that women should always pee after sex to lessen the risks of getting a UTI or yeast infection. I wish they had taught me and everyone in the class about how to talk to communicate to each other after to make sure both partners were comfortable and calm in the moments post-coital. If I had this information at hand during my first few sexual encounters, I would have saved myself from some pretty ignorant insecurities and avoided a few trips to the OBGYN.
Madison: Self-Love (Sort Of)
When I was in 4th grade, I remember the teachers splitting my class up by gender for our first ever round of "Sex Education". In truth, the hour-long session was actually more like a live-action presentation of "Our Body, Ourselves". The main takeaway was that our pre-pubescent bodies would soon be changing, and then EVERYTHING would change. It was as if someone had handed me a ticking time bomb, only that time bomb was comprised of my own bits and pieces. My vagina was the worst of all. I started to regard it as some sort of gremlin—very aware of its presence and what it would inevitably become.
High school sex-ed also left a lot to be desired, because we rarely talked about our bodies in a sexual way. STD's, sure. Teen pregnancy, absolutely. I even recall one particular class entirely dedicated to the importance of washing our smelly pubescent selves from head to toe (no skipping the feet!) But no actual discussion of our genitals, how they worked, what to do with them, or even what NOT to do. The only time I even saw a picture of a vagina in class was during a short overview of genital herpes. Most of what I learned about my own lady parts came from the worst source: Teenagers.
When I was 13, a few male friends of mine went around with a disposable camera, stuck it up girls' skirts and snapped a photo of their "cooches"; they later went through the pictures, photo by photo, casting judgment upon the various vaginas. A few years later, a group of guys  told me they had nicknamed my best friend, whom a few of them had slept with, "meat curtains". The girls were just as bad, hurling insults about smelly vaginas and loose vaginas and vaginas that were darker than their own. By the time I was 16 and sexually active, I was certain that my own vagina was the most disgusting thing in the world. I never touched it, I never looked at it and I never let ANYBODY see it.  I used to joke that it looked like an alien, or a Venus Fly Trap.  And the weird thing is, the more I disliked it, the more trouble it seemed to cause me. I won't go into details, but I spent years in and out of the OBGYN for various vagina issues, from yeast infections to BV and the like. This only added to my insecurity and lack of compassion for my lady parts. There must be SOMETHING wrong with it, I told myself. No one will ever love it.
This vaginal shame carried on for years, pretty much until I started working for Sex With Emily. Then I saw a video that had gone viral of women looking at their vaginas in a hand mirror for the first time. Some of these women giggled, some cried tears of joy, but none of them seemed to hate what they saw. A few months later, I happened upon an image of at least 40 different-looking vaginas and the caption said something along the lines of "all beautiful". For me, that was a turning point. Were all vaginas beautiful? Why hadn't anyone told me?
Looking back, I truly believe that Sex Ed failed me in this area (among others!) They gave us so many reasons to fear our bodies, but never really taught us how to appreciate them. It was never "this is your body and it's beautiful"; instead, we got "this is your penis with an STD". No wonder we all grew up being simultaneously fascinated with and repulsed by each other's bodies. If I had learned to love my vagina earlier in life, I might have treated it better and demanded that my sex partners did the same. I don't think it would have made me more promiscuous, just more comfortable in my own body. Here's hoping for a future with more sex positive sex education!
You've heard our stories of sex (mis)education, now we want to hear from YOU! What do you wish you had learned earlier in your own sex ed? Email me: Feedback@SexWithEmily.com