Sex Positions For your (Funny) Bone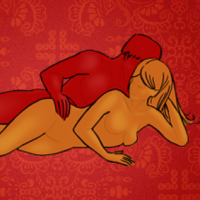 I am an all-time proponent of experimentation and just plain switchin' it up with sex positions. However, I'll be the first to admit, I've suppressed a couple of giggles when it comes to doing certain sex positions. Through the span of my life, there's been some interesting moments but I'm glad that I did try the full spectrum of sex positions (as funny as they seem) because I have a better sex life for it. So here's a list of sexual poses I've had to muffle a laugh for while assuming the position:
The Frog Leap
The whole be-one-with-your-amphibian-side doesn't really get me off. I felt like I looked so balled up and, well, frog-like. That being said, it was easy to do and, if the man adequately holds your lower half up enough, your legs don't cramp up too bad. I say try it!
The Spoon
Okay, I know this one may come as a surprise because it's a favorite to some. However, this position has given me a couple of awkward moments that I now have to live with. Gentlemen, if you do not know how to properly execute this position, do not attempt with a new partner. There's been a time or two where I felt more like I was being violated from behind like those awkward school dances when the boys thought dancing meant hitting their crotch on your ass. Thankfully, I was facing away, and my stifled giggles went unseen. Don't worry, I helped him out…
The Bulldog
This position, my dear readers, is what initiated this post. The bulldog. I still remember looking back and seeing my 6'4 boyfriend in the most awkward stance behind me. I thought it was so different looking and unexpected, I may have smiled a little too much. I was fairly new to the sex game at the time. Now, I go through this one on numerous occasions. It did seem as if he had much more control and there was definitely deeper penetration. Try it!
The Brute
If you plan on attempting this, have good balance! It is interesting when you finally master it but trust me, it wasn't an easy journey.
Reverse Amazon
Almost like the female Brute, but more fun in my opinion. There's (usually) more man to support the woman on top. However, getting proper penetration may take a try or two.
68 (His)
I will not be attempting this position in the near future. I nearly died by dick when last I ventured to the lower 68. Tip: Do not try this if your partner is considerably bigger than you… or even if he is bigger than you at all. It felt like being flattened between two boards. Later, we realized he probably should have been supporting himself a bit more… Venturing to the adventurous side does have it's dumb moments.
The Deck Chair
So, this position is definitely not on the laughable list but I had to add this one. It is my all time favorite position. Easy, enjoyable, slightly intense, total classic. This bad boy hits your G-spot with the greatest of ease and if you've been listening to all the shows, you'll know I'm a G-Spot groupie. Pushing slightly at his chest with your legs and him pushing back provides a pleasant intensity and, for me at least, helps me get there all that faster. There is room to stimulate your clitoris but honestly, I say lay back, booty up, and really feel your G being worked. Try it, love it, embrace it.