Sex Stories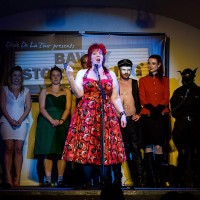 Join me and Porn Icon Nina Hartley on Wednesday for a night of sex storytelling. I'll be sharing a story about my own sex life and the unlikely place I got it on…
Here's some info from the Bawdy Storytelling Facebook:
Ever have that moment where you wake up in a small county jail without your shoelaces, belt, or dignity? Yeah, me neither. How about some random bed where you try to remember where your pants are, where the handcuff key is, and why your ass hurts? Me neither. But have you ever wanted to hear stories from people who have, though? Yeah, me too!
This month, Bawdy Storytelling presents 'The Unlikeliest Places' — a firm and probing exploration into sexploration, LA style. From hopping a fence to getting drunk in a hospital to good ol' stickin' it where it don't normally fit, come hear stories about boldly going where most men and women just shouldn't, couldn't, and in some states dictated by law, MUST NOT go.
This show will be a mix of renowned sex-positive celebrities for the curated portion of our show, followed by BawdySlam (where people just like you take to the Bawdy stage and share personal and intimate adventures for prizes and the title of Dirtiest Storyteller in LA). Bawdy's award-winning take on sex and storytelling has made it not only a "don't miss" event in the cities we've already conquered, but it serves as a gathering of the bold, the beautiful, and (if our fan mail is to be believed) an awesome first date destination. Each themed evening of true dirty stories features tales of carnal wins and epic fails with no scripts, no nets, and no holds barred. You may even go home with a few new tricks for your boudoir arsenal!
As the great American poet Iggy Pop once said, "You know I've had it in the ear before…" Come to the gorgeous El Cid to enjoy tapas, flirting and stories that would make little Jimmy Osterberg blush!
The historic El Cid is a treasured Silver Lake Landmark. Now it's under new management, and has a new menu under the direction of renowned chef Olivia Hernandez. Bawdy's first LA show at El Cid sold out fast so get your tickets NOW – we want you there!
Wednesday, March 27th
Doors open at 7:30, Show at 8:30 PM
El Cid 4212 Sunset Blvd LA 90029
Tickets $12 in Advance at
http://bawdyunlikeliestla.eventbrite.com/
Online ticket sales end at 5:30 day of show & will be $15 at the Door (space permitting).
It's just like camp, but instead of telling ghost stories around a campfire, we will be telling sex stories in Silverlake.