Good Vibrations Sex Summit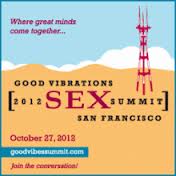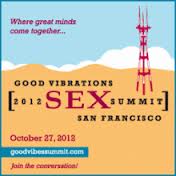 Sex is dominating politics and headlines and it is keenly felt in this election year.  Items include the battle over reproductive freedom, same sex marriage and also Fifty Shades of Grey,  a book about BDSM, which took over American culture by storm.   Emily will serve as a keynote speaker during the upcoming Sex Summit, held October 27 in San Francisco.
Hosted by Good Vibrations, the Summit explores the sexual state of the union.  Keynote speakers include esteemed authors and research scientists, award-winning journalists, sex therapists, and authors.  Four panels will delve deep into four features of sex in society.
Emily serves on Panel Four of the Summit,   "Sexual Stargazing and Pop Culture."  This panel examines cultural attitudes about sex that are changing faster than ever before and popular culture, fueled by technological changes, help create these shifts. The panel asks, what is it about celebrities that makes us so interested in their sex live, and do we really want them to serve as role models? How can we use the contemporary folkways of mass culture to create different representations of sex?
Afterwards, attendees can continue the conversation and enjoy a bird's-eye view of San Francisco at the post-conference hosted cocktail reception from 6-9pm.
We are all excited for sex information and fun this Saturday while listening to our panelist, Emily Morse.