Sex Tips From Prince Harry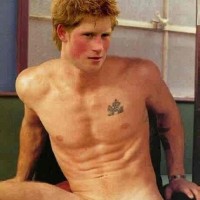 As everyone with access to any form of print, visual, or braille media is well aware, England's regal redhead Prince Harry was caught by cameras with his breeches down last weekend in Las Vegas, presumably leaving his grandmother r-AHther miffed as she tries to respectfully observe her Diamond Jubilee.  And while there are some important lessons to be gleaned from these royal foibles – turning off camera phones during naked parties, and being very selective about whom you have naked parties with, for example – a quick examination of Prince Harry's spotty P.R. past yields some great lessons for lovemaking.

Get Creative With Your Games
---
On the night Harry's hindquarters were captured for perpetuity, he was engaged in a rousing game of Strip Billiards. Such carnal cleverness may be proof of Harry's expensive education, but don't be put off from expanding your repertoire simply because you're a public school pleb . In fact, go beyond simply adding nudity to things you play in dive bars – make your titillation last for hours with Strip Settlers of Catan, try your luck at Strip Bingo, share a quiet but kinky Strip Crossword, or simply cut to the chase with Oral Sex! The Game.
Dress Up
---
Prince Harry made even the most bigoted of jaws drop in 2005 when he arrived at a fancy dress party in a Nazi uniform. Must be that upper class wit sailing above our heads… So while you probably shouldn't follow his lead to the letter on this example, don't be afraid to try dressing up before sex. Introducing costumes and role-playing in the bedroom isn't just fun, it helps you better understand and meet your own needs and desires, as well as those of your partner(s). Role-playing lets you step out of yourself for a moment and focus all of your attention on sex – the weird, costumed sex you're about to jump into. Check out this episode – Sex Tips From a Dominatrix – to learn more.
Loosen up!
  Prince Harry is great at unwinding! Whether it's getting caught with marijuana (and spending an extremely necessary day in rehab for it), jovially punching a paparazzo, or casually tossing out racist slurs about your friends, Harry knows that the key to great sex is relaxation. Anxiety in the bedroom is a libido killer, so train yourself to lighten up about the whole experience, and you'll quickly start having a lot more fun.

Mix it up!
---
Harry once caused a scandal on the scale of minor-to-not-a-scandal-at-all by appearing outside a London nightclub sporting pink nail varnish. And he's right, you know. It's the twenty-first century; don't be afraid to challenge outdated, arbitrary gender constructions. Strap-ons and prostate play have never been bigger – if you don't count ancient Roman orgies in your historical analysis… or most of the 60's. For a comprehensive introduction to the world of pegging, check out Emily's interviews with Good Vibes' very own Charlie Glickman, and with sex positive pioneer Maggie Mayhem.