Sex Toy With A Twist: Intern Sex Toy Review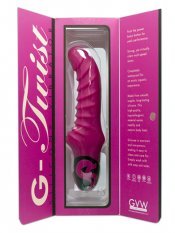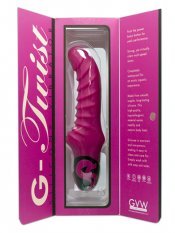 I have a confession to make: I love my vibrator. I have had one trusty vibrating Bullet for three years, and I love it as much now as I did the day I got it. However, when presented with the prospect of picking a new sex toy, I knew that it was time to branch out and try something different. I had already conquered the clitoral vibrator, so it was time to move on from the C-Spot to something a little trickier to find: the G-Spot.
When it comes to intercourse, I am one of the lucky ladies who can have orgasms vaginally. However, I have never had the pleasure (haha) of experiencing a G-Spot orgasm from a non-penile source. And so, I embarked on my quest for the perfect G-Spot vibrator- a quest that ended with a twist.
The G-Twist Smartvibe Vibrator came highly recommended on GoodVibes.com and got really great reviews, Plus it looked friendly and non-threatening, which was very important for a first time G-Spot vibrator user. It is an insertable silicone vibrator, with a 6" textured shaft that is expertly curved to hit that magical G-Spot. At the base of the shaft is a ridged bump, strategically placed to hit your clitoris when it is fully inside the vagina.. Hello, best of both worlds!
But the absolute best part of the G-Twist lies in its exquisite vibrating capabilities. 8 function settings take you from a light vibration to a powerful pulsation, so you can start off slow and work your way up high intensity. In addition to the + and – buttons, there is an extra turbo-boost button for an added burst of vibrating strength. Yet somehow, the toy's volume never exceeds a gentle hum, making it as discreet as it is powerful.
After the initial unveiling and cleaning of my new toy (soap and water friendly, huge plus!) I started out with a little external exploration. Let me just say, when it comes to vibrators, the G-Twist certainly packs a punch. Those 8 settings, plus the turbo button, will take you to new levels of clitoral pleasure.
My first suggestion for the proud new owner of a G-Twist: Find yourself an awesome water-based lube, and be generous with it! The extra lubrication, combined with the smoothness of the silicone, guarantees easy and pleasant entry. The soft and flexible shaft fits easily inside the vagina, and the textured ridges add extra girth to the toy, as well.
Overall, I found the G-Twist to be an awesome toy for the more experienced user. As far as vibrators go, it blew my little Bullet out of the water. When used internally, I found it a little bit difficult to maneuver and had trouble finding my G-Spot, but I believe this had more to do with my inexperience than a problem with the toy itself. I did find it to be extremely enjoyable when combined with external stimulation, whether from a clitoral vibrator or fingers.
If you are well-versed in G-Spot stimulation, and are looking for a new best-toy-friend to spend quiet evenings in with, the G-Twist Smartvibe is absolutely the toy for you!
Use Coupon Code GVEMILY20 for 20% off your next purchase at GoodVibes!
Can't get enoughSexWithEmily?
Subscribe on iTunes and never miss your bi-weekly Sex Ed!