Sex Toys For Men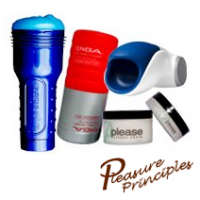 Many men fear sex toys and view vibrators as a crutch for the sexually misfortunate. Men feel like they should be able to make a woman orgasm without any assistance. The stigma men assign sex toys limits the potential for female orgasm. It is difficult for women to get the clitoral stimulation they need during sex no matter how talented you and your penis are during sex. By incorporating a female sex toy into the equation you demonstrate your dedication to her sexual pleasure. Sex toys are not a sign of incompetence but an emblem of power. A silicon stick can never truly replace a penis, no matter how fast it vibrates.
Men not only need to embrace sex toys for women but also need to embrace sex toys for themselves. I'm not asking men to run out and buy a bunch of butt plugs. (But if you do want a butt plug I can get you a discount). Start with a simple masturbation sleeve or purchase a Fleshlight if you want the best.
I found a man who fears sex toys and gave him the Fleshlight STU (Stamina Training Unit). I hoped the added perk of improved stamina might inspire him to give it a try. Here's his account of the Fleshlight:
Its rippled interior promises an extra-pleasurable "practice hole" to develop stamina and confidence. At first I didn't know what to make of the many ridges sliding against me in my new synthetic vagina. But after a minute of using it I found the sensations unexpectedly pleasurable. Although it is less discreet, it is definitely a superior option than my boring old hand any day. I had control over the movement and speed which I can't say for when I'm having sex with a woman. The Fleshlight definitely has it's advantages since you feel like you're having sex but don't have the pressure to please someone other than yourself.
I'm considering taking it on a 32 mile backpacking trip I have coming up since it looks like a flashlight. Hopefully my camping companions won't be disturbed by the slurping sounds in the night and get out the bear spray…