Sex Toys for Spring (That'll Have You Sprung!)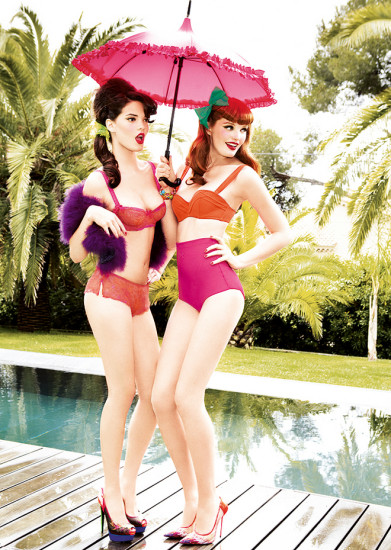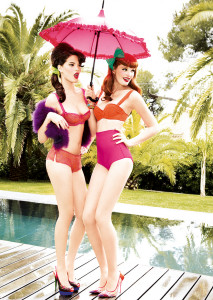 I know some people are really big fans of the holidays, but I have to say that spring has always been my favorite time of year. The sun is shining, the flowers are blooming and people everywhere get to trade in their oppressive winter coats for flirty sundresses and t-shirts… Ahhh the simple pleasures in life.
Besides the sexy new style options, one of my favorite parts of this season is the way it makes me feel, like anything is possible! Whether it's an unexplored hobby, a budding romance or an ambitious new fitness routine, spring is well-known for being the season of fresh starts and new beginnings. That's part of the reason why so many of us suffer through spring cleaning. There's nothing sexy about 6 hours of concentrated decluttering—No, we do it for a much different reason. We clear out the old junk, both literal and figurative, to make way for better habits and the promise of new experiences.
So maybe you've done your share of spring cleaning already. You've re-organized your cupboards, cleared out your closets and even done some light tidying up in your love life, but there's one area you may have overlooked: your goodie drawer.
Out With The Old…
Just like your desk drawers and spice cabinets, things have a tendency to accumulate in your nightstand (or wherever your sex supplies happen to be stored). Before you know it, your goodie drawer runneth over; the more cluttered it gets, the less likely you are to rummage through it. The result—a fully stocked nightstand of sex products collecting layers of dust.
As Emily is fond of saying, sex lives should constantly be growing and evolving, and the same thing goes for your goodie drawer. If you're still holding on to that $10 bullet vibe from college or a crusted-over bottle of KY jelly (gag!), it's definitely time for an upgrade.
There's a big sexy world of products waiting to be discovered, but first you've got to get rid of the sex supplies that no longer serve you. I like to go by the 6 month rule—If it hasn't brought you pleasure in the past half-year, into the garbage it goes.
Sex toys left behind by an ex? Trashed. Your trusty Rabbit held together by tape and rubberbands? Sadly, trashed. Lubricant that gave you a nasty rash? Trashed. Expired condoms and ill-fitting lingerie? You're going to need a bigger bag.
Once you've whittled your sexytime collection down to the bare essentials, then comes the fun part…
In With the New!
Whether you've found yourself is a bedroom rut or just want to treat yourself to something new, it's amazing how a couple new toys and treats can liven things up between the sheets. Even routine Monday night sex gets a spark of excitement when it's paired with a pair of new velcro cuffs of accompanied by the buzz of a new vibrating friend.
Here are 5 hot new sex toys and products that will put a spring in your step (and spice up your goodie drawer!)
I'm a firm believer that every girl needs at least one trusty bullet vibrator in her sex toy collection, and no bullet vibe gets it done like the We-Vibe Tango. Unlike your regular pocket rocket, the Tango is rechargeable, made of body-safe, recyclable material and is 100% waterproof. It's discreet design and easy one-push button make for a covert travel-companion, plus it's multiple intensity levels and vibrating patterns really pack a wallop. And have I mentioned that it's only 3 inches long?
This is the type of sex toy that Japanese decluttering enthusiasts would love. It provides a plethora of pleasure and takes up virtually no space at all, making it the perfect fit for your newly renovated goodie drawers!
Along with that trusty bullet vibrator, there is one essential product that everyone needs in their bedside table: A high-quality personal lubricant. Numerous studies have shown that lovers who regularly lube up have more satisfying sex lives. However, not all lubricant is created equal, and sadly you often get what you pay for. Bargain bin lubricant is often loaded with chemicals that are harmful to your body, which can leave your lady parts feeling not so hot.
So in the spirit of spring cleaning, I highly recommend springing for a bottle of the good stuff, like Pjur's Natural Glide water-based lubricant. Made with plant glycerin and other natural ingredients, Pjur Natural Glide is paraben-free, latex safe and is gentle enough for even the most sensitive skin. Use as much or as little as desired, without fear of irritation. Plus, no gross sticky residue to clean up after!
If you're anything like me, you probably let your exercise routine fall by the wayside during the sweater-weather season. Now you're dusting the cobwebs off your free weights, with visions of evening jogs and 7-minute-workouts dancing through your head. But in addition to Michelle Obama' arms and Jessica Biel's butt, there's one more goal you should be working toward: Kegels of Steel!
Strengthening your PC muscles keeps your vagina in tip-top shape, sure, but a strong pelvic floor can also do wonders for your sex life! Keeping up with your kegels is relatively easy to do, and it's made even easier (and more pleasurable) with the help of weighted balls like Luna Pleasure Beads. You simply insert the Luna Beads inside your vagina and go on about your day!
While you move around, the beads (which come in two different weights for beginners and more advanced users) automatically cause your Kegel muscles to tense as they attempt to hold on to them, providing an effortless pelvic floor workout. They also subtly vibrate with each movement, stimulating the Kegel muscles and building them up with every step you take. And in addition to their strengthening abilities, the beads' vibrations can feel extremely pleasurable, slowly building up your arousal the longer you wear them! Can your free weights do that? I'm thinking no.
As anyone who has attempted to Feng Shui a room will tell you, the right angle can make all the difference! The same goes for sex. You can try a position or a technique a million times and never experience it's full potential. Then one day, you come at it from a slightly different angle and it all comes together, then suddenly you're seeing fireworks! Such is the guiding principle of Sportsheets' revolutionary Doggy Style Strap, a personal favorite of mine.
I am one of those women that absolutely detests the doggy style sex position. I've done it plenty of times with plenty of lovers, and not once have I enjoyed it half as much as the man mounting me from behind. It's awkward, uncomfortable and is not known for being particularly orgasmic—but that's where the Doggy Style strap comes in. The strap wraps around your waist, supporting your pelvis and elevating your hips at the perfect angle for your partner to hit your G-spot during sex. It also takes a lot of the pressure off your knees and lower body, making the position both more pleasurable AND more comfortable for you.
Spring is all about new life, and this simple strap breathes new life into a position that, in my opinion, should have been retired ages ago. With a little support and, of course, the right angle, suddenly you'll be seeing doggy style in a whole new light!
While many of us have abandoned our New Year's resolutions in favor of more enjoyable endeavors, it's never too late to resolve to work on your sex life. With a de-cluttered mind and a restocked goodie drawer, you'll be well on your way!
For even more pleasure-packed sex toys upgrades, visit adamandeve.com. Use code: EMILY50 for 50% off select items, plus 3 FREE DVDs, a FREE extra gift and FREE shipping on your order. *Certain items may not be eligible for discount! 
 Happy shopping!