Sex Toys to Take Home For the Holidays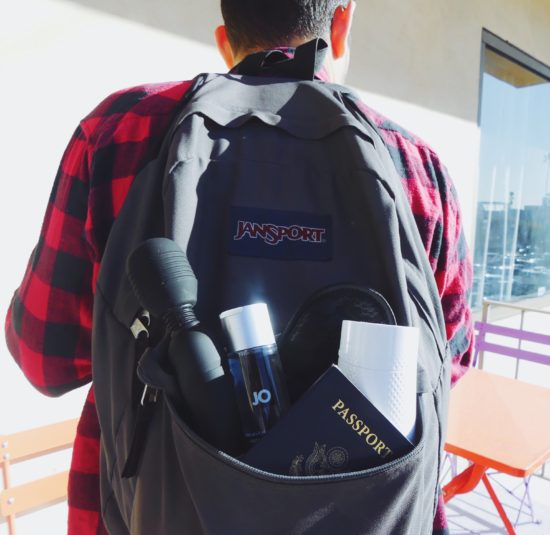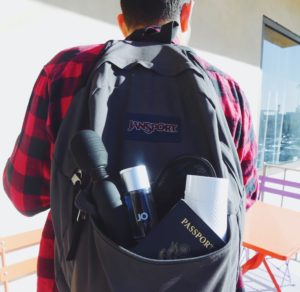 I've been binge-watching holiday specials on TV all month, blasting the season's classics on my daily commute and savoring grandma's scrumptious peppermint chocolate chip cookies for days now. This can only mean one thing: It's time to come home for the holidays!
This time of year, people travel all over the world to spend quality time with their friends and loved ones. And traveling is the easy part—once you touch down in your hometown, you know your schedule will be packed with family-friendly activities: elaborate dinners, get-togethers, tree-decorating, last-minute shopping, family photos, dodging questions from your nosey aunt about your (lack of) love life or (lack of) starting a family… You get the picture.
'Tis is the season for joy, gratitude and unlimited good feelings, meant to be shared with your loved ones. Still, that doesn't change the fact that, once you hit the foyer of your family home, your time becomes—well, not your own. It seems like you can't catch a break from the holiday spirit to read a book, take a nap or even sneak in a leisurely shower. How is one supposed to find the opportunity to treat themselves to a little after-hours pleasure?
Sometimes you have to create your own opportunities, and for that, it helps to come prepared.
I know going home for the holidays doesn't seem like a sex-toys-required activity, but trust me when I say that sex will be your savior when it comes to unwinding at the end of a family-packed day. Whether you're heading home solo or are bringing your partner along for the ride, knowing that you have the option for multiple orgasms in your suitcase will be nothing if not a source of comfort.
I'm not saying you need to purchase an extra plane ticket for your Sybian, but there's nothing wrong with sneaking a few of your favorite toys into your luggage! The ideal traveling toy should be compact, quiet and discreet—think something that can't be heard if you share a wall with your little sister, can be stored safely in your carry-on and doesn't require a lot of clean up.
Need a little packing help? We've pulled together our picks for the most travel-friendly, TSA-approved, pleasure-packed toys for you to take home for the holidays….
It's no surprise that the #1 selling sex toy for men is also one of the most low profile toys. The Fleshlight Flight is more compact and discreet than the original models, and it was made to make travelling with sex toys a breeze. Since this model is smaller and sleeker, you don't have to worry about fighting for space in your luggage. And just because the case is smaller doesn't mean the Flight is meant for smaller members; it just means it's easier to cart around, easier to use with a single hand and, even better, easier to clean. Whether you're sneaking into the shower for a quickie or are taking a stroll down puberty lane in your childhood bedroom, the Flight is a handy helper to have around!
Most wand vibrators have a reputation of being long, bulky and extremely loud, but the new rechargeable Mystic Wand from Vibratex defies all labels. With it's manageable size and velvety, curved handle, the Wand practically molds to your hand, making it the perfect choice for sneaking in a speedy solo session. It's also rechargeable, so you don't have to plan your play time around an electric outlet or risk the chance of running out of AAA batteries. Plus, the Mystic is SO quiet! No one walking by will have a clue as to what you're up to behind closed doors… unless your moans give you away! It's made a name for itself as a go-to for all seasons, but when it comes to holiday travels, this is truly the gift that keeps on giving.
If you and your lover are looking for a way to take a little bit of kink on the road, a blindfold is the way to go. It seems like a harmless bedtime accessory when packed along with your PJ's, but it packs more potential than most sex toys. Using a blindfold has a way of making you feel more than you normally see, meaning every sensation is amplified. You can make it a part of your masturbation routine or share the experience with your partner. Plus, if too much family time has left you with the need to get out of your head for a little while, a blindfold is the best way to change things up.
As I mentioned before, this time of year is all about sharing the special moments with your loved ones, so why not share some of the pleasure as well? With your partner, that is… We-Vibe's newest in their string of best-selling couples' toys, the Sync, is one of the hottest ways for couples to stay connected sexually. For starters, it's wearable and can be controlled by an iPhone app from afar… I'll let your mind mull over the possibilities there.
The Sync can also be worn during sex to enhance pleasure for both parties, and comes with a range of vibration patterns to play with—all of which are whisper quiet! You can actually create your own vibration pattern, hit "go" and enjoy hands-free dual stimulation (yes, clitoral and internal!) during your late night lovemaking sessions. No matter what obstacles you encounter at the hands of your extended family, you and your partner will always have a way to stay in sync.
No matter how expert your packing skills, the holidays will always come with their own special heaping of emotional baggage. It's no wonder that many of us lose the desire to get down and dirty this time of year. But just because you're not rearing and ready to bone every second of the holiday season doesn't mean you should close up shop until the New Year. Not when you've got the arousal power of Fiera in your duffel bag! In case you missed it on the podcast, Fiera is a small hand-held device that uses gentle suction and vibration to increase blood flow to your clitoris, enhancing arousal and helping you get in the mood. While it's not technically a sex toy, Fiera can seriously be the difference between a satisfying holiday sex life and Sex Grinch status. Plus, it's small, discreet and only takes 5-10 minutes to work it's magic. Bring this one alongside your favorite toy (or favorite sex partner) to guarantee yourself an orgasmic holiday sex-perience.
---
And now, to announce the first winner of our Hotter Sex for the Holidays giveaway! Congratulations Mark. S, you've won a Mystic Wand Rechargeable of your very own. Thank you so much for taking the end-of-the-year survey, and Happy Holidays from all of us at Sex With Emily!
Everyone else, check our blog daily to find out if you're winner #2 or #3!