Sex in a Can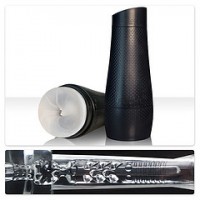 What's the difference between a sex toy and a real-life partner? Quite a bit actually, but the lines between authentic and artificial are becoming blurred thanks to the life-like qualities of the Fleshjack masturbator collection (both gay and straight). For those not familiar with this specific breed of male masturbation utensil, fleshlights are miniature orifice-adorned contraptions that simulate sexual intercourse of the preferred gender. In other words, "sex in a can."
Ranging from oral, vaginal, and everything else in between, fleshlights can be fitted with just about anything to get you off. The newest addition to the Fleshjack series comes in the form of the "Flight" model. With a sleek design and separate compartments for easy entry and a quick clean up, it's best that you buckle up before you initially take "Flight." This particular fleshlight sports a compact design etched with textured grooves on the exterior for gripping purposes, and a removable sleeve on the interior that can be rinsed of residue immediately after use.
Taking the additional features under consideration, the interior sleeve of the "Flight" is without a doubt the main selling point. The entry orifice appears relatively genderless, giving the user complete navigation over what or whom he wishes to penetrate. Upon further inspection, the highly realistic SuperSkin sleeve is adorned with textured ribs and nubs that elicit an overload of sensory stimulating pleasure. With several interior chambers ranging from narrow to wider, the user will experience intense sensations that simulate actual intercourse.
The smaller twist-off lid located at the end of the "Flight" can be removed or fastened to change the intensity of suction. With all of these features that enable a decent amount of personalization to each user, Fleshjack's "Flight" model may be one of the best fleshlight experiences on the market. The ever-handy Good Vibrations can give you a hand with helping you find the perfect fleshlight – booking a "Flight" has never been this easy.