SEXtra Credit Stocking Stuffers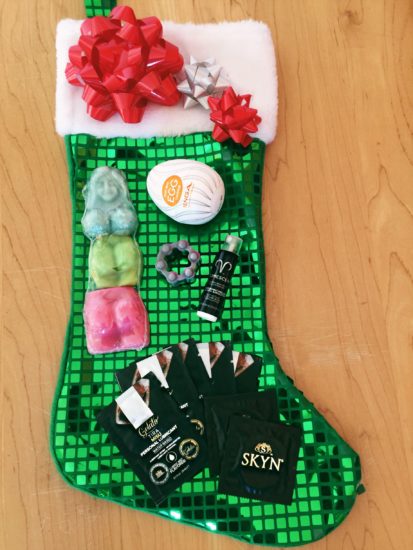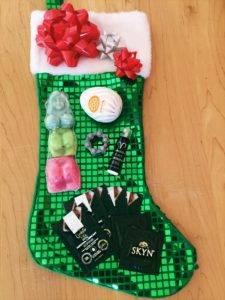 Who doesn't love the occasional quickie? We're not just referring to sex here. Well… we are, but we're talking about other kinds of quickies too. Like a quickie workout that makes you feel powerful, quickie shower to feel refreshed, or a quickie luncheon to connect with your BFF when all you have is 30 min to hang… quickies can be just what you need. As the holidays draw closer, time seems to speed up and before you know it, you're looking for last minute gift, and you need quickie shopping and quickie solutions.
We have you covered! Often, the presents saved to the last minute are the stocking stuffers or little extras you need to make a main gift pop. We've put together a stocking stuffer gift guide that will make your last minute shopping fast, easy, and awesome.
Sexy Soaps
There's nothing more fun than holiday festivities… well maybe one thing. Sexy soaps! It's hard to find presents that are funny, sexy and cool all rolled into one amazing package. But itsthebomb.com has found a way to make such gifts. Speaking of packages, the adorable soaps come in the shape of male anatomy and a colorful assortment of boobs and vaginas as well. Seriously, you could give these soaps any time of year and it would feel like Christmas, that's how awesome they are. But giving them for Christmas? Best. Thing. Ever.
Skyn Condoms
In our holiday, pre-game reverie, we all love playing coy and dropping hints about what we want to get and give. Keep the temptation and titillation going by stuffing your lovers stocking with innuendo and hint at the much bigger gift you'll be giving later that night. With a few Skyn Condoms intermixed with the candy, lube, and other gifts, you'll drive your partner wild throughout the day. Condoms are always a great gift, but the SKYN Condoms are our favorites because of their natural feel, durability, and erotic sensation. Throughout the day, remind your partner of how you can't wait to leave the festivities to go home and "use those stocking stuffers." You delightful tease, you!
Promescent
So like we said, sometimes a quickie is just what you want and need. Then again, there are times when you want it to last for much, much longer. Thankfully, this is easy to accomplish with Promescent. Unlike a lot of other "long last" products, Promescent was doctor-developed to help men delay ejaculation and prolong their love making without totally numbing you and your partner. That means you both get to enjoy all the sensations of sex without the anxiety of an abbreviated performance. Just a few light sprays to the underside of the penis can last 30-60 minutes depending on the dosage. That's a lot of time to give your partner more foreplay, more love-making, more… everything!
Tenga Eggs
Give your man some unexpected holiday fun and fill his stocking with the Tenga Egg Series. The mini masturbators have major stretch for even the biggest shaft, which you may want to tell your guy when you give him this surprise; compliments and gifts go so well together! And with 12 unique sensations, you can give him a variety of options with these incredible one-time use products. If you've been especially good this year, and he wants to give you something back, ask if you can use the egg together to supplement a mind blowing hand job. The best gifts are the ones you can share!
Bijoux Indiscrets Rhinestone Pasties
If you like it, you should put some bling on it. Or put some bling on them rather. Yes, we are talking about adorning your stocking stuffer with nipple decorations. These pasties take the season of glitz and glamour to a whole new level. As a gift, the shimmering red bow pasties are also wonderful for your close girl friends. Intimate, sexy gifts can be empowering and fun for friends as well as lovers. Give your BFF some sexy lashes, Bijoux pasties, and maybe a plumping gloss and she'll feel like a sexy little minx.
JO Gelato Flavored Lubes
Finally, a zero calorie treat to enjoy this holiday season! The Gelato flavored lube is downright delectable, making your foreplay even more delicious. While this sweet treat may feel like a sugary indulgence, it's actually sugar free (which is a must for vaginal use) and it will never become sticky or tacky. Though the Gelatos are tasty concoctions, they are – first and foremost – an amazing line of water-based lubricants and feel as good as they taste. They come in amazing flavors like Crème Brulee, Salted Caramel, Tiramisu, Hazelnut Espresso, and our favorite for this time of year- Mint Chocolate. Yum!
Pocket Rocket from Doc Johnson
Want a little toy that can lead to the biggest orgasms? Yeah, we thought so! The Doc Johnson Pocket Rocket is the epitome of quick and easy when it comes to sexy stocking stuffer shopping. The multi-setting mini vibe fits nicely in a stocking and is also the perfect size for holiday travel. But the thing that really makes the 4" vibe so fantastic is its pinpoint stimulation to the clitoris (and all your other erogenous zones). Include the pocket rocket in all your bedroom games for holiday fun that will drive you wild.
System JO Volt
Just hear those sleigh bells ringing while you're ting, ting, tingling too! If you want to boost your holiday spirit to an all time high, try a drop (literally just a drop) of Volt from JO on your clitoris and feel your pleasure enhance almost immediately. The proprietary oil blend absorbs quickly and gives a gentle "buzzing" sensation that can last up to 45 minutes.
Screaming O Ring
Santa Baby, we forgot to mention one little thing… a ring! Nothing says quick, easy, and amazing like the O Yeah Screaming O Vibrating Ring. With perfect stretch and fit, with pinpoint clitoral stimulation, the disposable C-Rings will make your Yuletide one you'll always remember.
***
As the saying goes, sometimes you save the best for last, and these quick and easy stocking stuffers will make your last minute shopping the absolute best! Now run like Rudolf and get these fabulous quickie gifts to fill your stockings with. A dash of sexy will make any last minute purchases or low-budget treasures suddenly become the best gifts of the season.