Giants and The Panda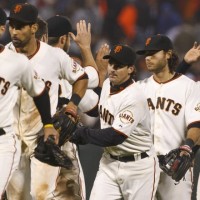 It's not just their size; it's their exotic nature and strong personalities.  The Giants, or, "Los Gigantes" have a lot of Latino woven into the team.  Hector Sanchez, Jose Mijares, Marco Scutaro, and Gregor Blanco all hail from Venezuela. Santiago Casilla and Guillermo Mota are both from Dominican Republic.  Outfielder Angel Pagan  (what a name!) is from Puerto Rico originally.
Personally, I think that Venezuelan Pablo Sandoval is the sexiest. At 5' 11"  and 290 pounds, Pablo Sandoval is a lot of man.  Nicknamed "Kung Fu Panda," female fans show their appreciation of Sandoval by wearing panda hats to keep their ears warm.  These female panda hat wearing fans can be found rooting for the team at AT&T Stadium; or,  at a local sports bar.
A steamy fact about Sandoval is that he is very good with his hands.  He was born left handed, but did not want to play outfield all of his career.  So, Sandoval taught himself to throw right handed as well.  He can still throw with both hands but throws right handed during games.
The Panda has a lot of force and power, hitting twelve home runs this season with two during the play offs in the past seven days.  Some sports commentators were criticizing Panda for gaining too much weight but he just proved that when a guy has this much to love, he can hit home runs in baseball and with the ladies.