Sexy Hanukkah Tips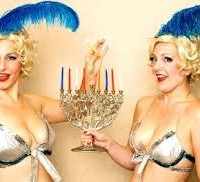 I was going to write a blog on "Hannukah Sex Tips" but the Huffington Post pretty much beat me to it.  They called their story "The 8 Rules of Hannukah Sex."   I changed it around with X-Rated suggestions:
1.  From Huffington:  "Use your menorah to produce some romantic mood lighting.  Since each night you add a candle, each night the lighting will change."
My take–  Use a different massage candle each night for guaranteed rub-down
2. Huffington – "Play strip spin the dreidel.  The Hebrew letter Gimel means take off all your clothes, Shin means put your clothing back on, Hay means take off half of your clothing and Nun means do absolutely nothing."
My take- Gimel means "give me oral sex";  Shin means "hump my shin (leg)" ; Hay means take off half your clothing (ok, I like Huffington's rules) and Nun means wear nothing.
3.  Huffington – "Find a way to incorporate chocolate gelt into your sex life every day of the holiday. Chocolate is an alleged aphrodisiac, after all."
My take (see Halloween Candy for Adults) – Gelt can be used for a strip poker warm up and also is a useful to bribe a sexual target who may have an aspiration for bling (i.e, "Gold Digger").
4.  Huffington – "Give your partner a gift each night"
My take-  be a thrifty Jew and save some money by participating in Emily's Twelve Days of Pleasure Contest to win  gifts.  Use them with your partner.  Or, shop online with our discount code at places like Sinclair Institute, Jimmy Jane, and Screaming O.
5.  Huffington – "If you're having sex for one, make sure to get some fantasy inspiration from the 2013 "Nice Jewish Guys" calendar. Your mom would be so proud."
My take –  If you are masturbating, use the "Nice Jewish Guys" calendar.  No need for euphemisms.  Grab some sex toys too.  No risk for STI's.