Sexy Thanksgiving Travel Tips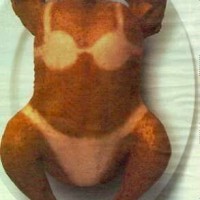 Happy Turkey Day (or not so happy)!
The Thanksgiving holiday is one of busiest travel times of the year, notorious for transportation delays and traffic.   Screw that, Sex With Emily just wants you to enjoy fun and pleasure.   Here are some tips to guarantee ecstasy and calorie-burning to balance out the Thanksgiving Day meal:
1)   Vixen it up-
I don't care how much you are longing to wear sweats on a six hour ride.  Don't.  Wear your most figure-flattering items with the sexiest lingerie underneath (hey, and throw an extra pair of lacy panties in your carry on, especially if you are flying).
2) Pack for personal pleasure-
Most of us are probably from cultures not sexually attracted to blood family members — but, that doesn't mean that you can't pleasure yourself over the holiday.  Pack a pocket size vibrator such as from 
Screaming O
.   The discreet "
Lipstick Vibe
"  comes in the form of a lipstick.  Pack an extra for your prepubescent cousin– it's never too early for lessons.
 Long trip with a lover?  Bring 
Masque
 oral
dissolving strips.  The strips er, come in an array of flavors including chocolate, mango, and strawberry.  Perfect for fellatio while traveling or masking turkey breath after dinner.  We all need desert.
4)  Flight delay?  Get an airline lounge pass-
Clasically a privilege provided to first class travelers, airlines now offer the option of purchasing a lounge pass for around $50.00, which includes an open bar, and, oftentimes a more upscale crowd.  Additionally seats are comfortable, spacious, and, sometimes you may find a large, handicap, unisex bathroom for nookie.
5)  Don't leave anything behind-
If anal sex is your thing then traveling is no reason to neglect the derriere.   Stores like Adam & Eve offer plenty of toys for anal and other sexual  techniques (use coupon code "Emily" at check-out for 50% off one item, and, a free gift – not a bad idea for re-gifting in a few weeks).
6)  Pack videos-
And, we don't mean ones from Disney.  The Sinclair Institute offers Sex Education DVD's which provides tips for everything from anal to cunnilingus.  Watch 'em and learn 'em on the way to Grandma's house (with a mature audience).
7)  For those flying, a handy diagram for the Mile High Club-