Single Sneaking Snuggles: Introducing the Cuddle App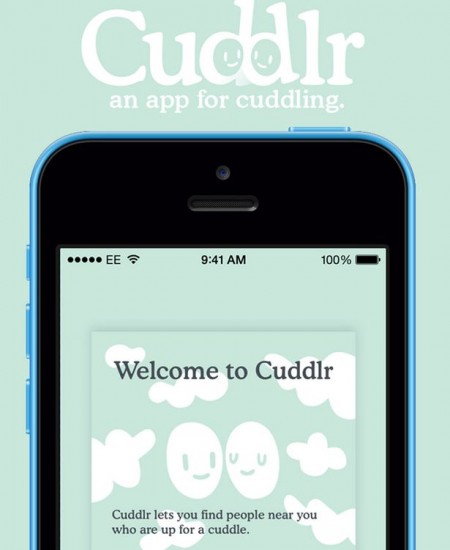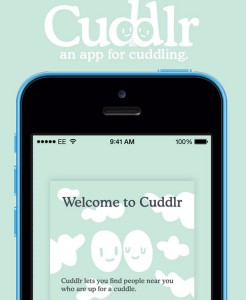 For those of you who have abandoned dating apps like Tinder, or dating sites like OKCupid, for being too raunchy, to sex-focused, not helpful in making a real-connection.. There is something new, and completely G-Rated, coming your way!
This new app, set to release on iTunes tomorrow, is called Cuddlr and it's basically Tinder, except instead of being on the receiving end of a barrage of dick pics and requests for sex, users have only one goal: some consensual cuddling!
Here's the breakdown of how the Cuddle App works:
You log on to the app, link up with your Facebook profile and start browsing for nearby cuddle partners. If someone looks especially snuggly, you send them a cuddle invite, which they have 15 minutes to accept.
If things go well, the app helps you meet up for a cuddle sesh, which can go down either in public or in private.
Afterward, you evaluate the cuddle, which allows users to warn each other off bad cuddlers (ex: bad hygiene, too handsy, etc..)
User Warning: The creators of this app were SO convinced that users would be using it for platonic purposes that it actually omits AGE & GENDER in the profile. It is rated 17+ in the iTunes store, though.. Smart move, guys.
According to Cuddlr founder, Charlie Williams, this app does not require an extensive dating profile because "You're not dating, you're cuddling!", so the goal is to remove unnecessary information. The user profile is very basic: it includes your first name, one photo (better make it cuddly-looking!) and the number of positive and negative cuddle-ratings you have had so far. That way users can make an unbiased, nonsexual decision: To cuddle or not to cuddle?
So how did this app snuggle it's way into the dating world? Williams says that it started off as a joke, but that he eventually came to realization that people need an app like this. He believes that we adults do not get enough cuddling in our day-to-day lives, and that it is time for our culture to see cuddling as more than just a before-or-after-sex practice.
And how does this app ward off the creepers who merely see cuddling as a gateway to something more X-Rated?While the app does not come with a virtual can of Mace, it does include "Rules of the Road" which asks all Cuddlrs to keep the cuddle a cuddle, and not use it as a means to pick people up. Of course, all Cuddlrs will have the option to further pursue one-another, post-cuddle.. But the app makes it very clear that it's goal is a simple connection, with no expectations attached.
Is the world ready for such a simple, yet confusing, way of physically connecting? Or is this app destined for a "60 Minutes" episode of cuddling gone bad? We will just have to wait and see!
Can't get enough SexWithEmily?
Subscribe on iTunes and never miss your bi-weekly Sex With Emily podcast…