Special Delivery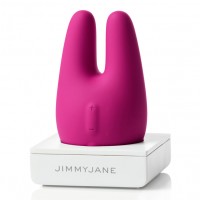 I never thought I'd be so excited about getting a toy after the age of 11. I knew that changed when the butterflies in my stomach caused me to jump from my seat to greet the postman as he walked into the Sex With Emily office. We knew what was inside that delightful package (mind outta the gutter people). The interns and I had been agonizingly waiting for this delivery since we got the call from Jimmyjane.
Tearing open the box, I grabbed my Form 2 Vibrator and preceded to crawl under the desks looking for an empty outlet to start charging it as soon as possible. I didn't want to wait an extra minute after I got home that night to take this bad boy out for an immediate test drive. While it was sitting there on the desk, its little pink charging light beaming, the anticipation was horrible. It was as if it was teasing me with its innocent bunny-like ears almost as if saying 'You know you're going to enjoy this…'
And enjoy it I did… thoroughly.
Living in a cramped San Francisco apartment, I was overjoyed when I turned it on to maximum power only to hear a faint buzz. The muted noise was quite deceiving because at the highest level of power, the vibrations were almost too intense to handle. I spent the next 2 hours after I came home in complete bliss. The Form 2 has 4 different vibration settings which made it easy to just lay back and let the toy do the work. I'm one of those rare girls who orgasms easily from G-spot stimulation. Unfortunately, I don't usually orgasm from clitoral stimulation. I've maybe had a few in the span of my sex life and thought that wouldn't change… I can proudly say the Form 2 can rock my clitoris' world every time. I especially knew I found a keeper when I took it for an underwater adventure in the tub.
Currently, I let my Jimmyjane Form 2 stay on my nightstand in its charger and my roommate still thinks its a cool piece of modern art… which to me, it definitely is.